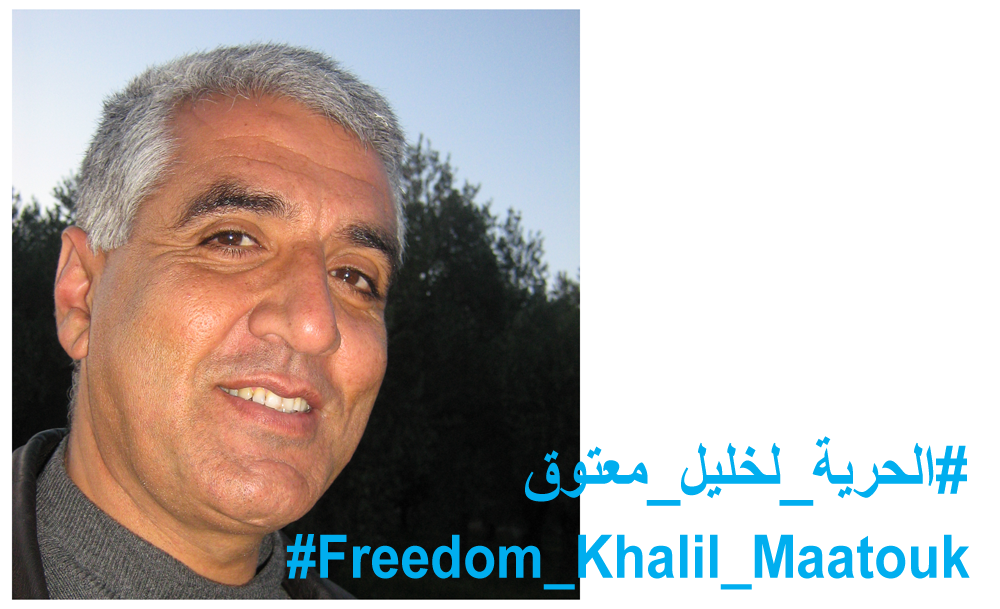 On 2nd October 2012 morning Mr. Khalil left his house in Sahnaya in the countryside outside of Damascus heading to his office with his friend Mohammad Zaza, neither of the men has been seen since.
Despite repeated requests by his family, Syrian and international human rights organisations to disclose information about his fate and his whereabouts, the Syrian Authorities have never released any. Mr. Maatouk is still detained under conditions amounting to the level of forced disappearance. Being outside the protection of law and disconnected from any communication with the outside world, there are serious concerns for his life and safety. These concerns are further aggravated as Mr. Maatouk is in dire need of medical treatment for chronic pulmonary dysfunction that stopped 60% of his lungs from functioning.
Mr. Khalil Maatouk is a Syrian lawyer born in 1959 in the Almesherfa village in the governorate of Tal Kalakh in Syria. He is the executive director for the Syrian Center for Legal Studies and Research, and the head of the Syrian Center for the Defence of Detainees. As a lawyer, he defended numerous human rights activists and prisoners of conscience for many years before military, state security and civil courts in Syria. He also defended "Damascus Spring" and "Beirut-Damascus Declaration" prisoners. In addition, Mr. Maatouk was head of the committee for the defence of detainees of the "Syrian Center for Media and Freedom of Expressions", its staff and visitors who were arrested on the 16th of February 2012. He publicly condemned preventing his clients from a fair trial, and provided legal assistance to victims of human rights breach. Moreover, he was the pupil supervisor for a number of legal human rights activists such as Mazen Darwish, Michel Shammas and many others.  
Shammas quoted Maatouk saying: "working in human rights should be done without political bias to any party".
Mr. Maatouk, the tender-hearted lawyer has spent over 20 years defending prisoners of conscience, and participated with his colleagues in defending thousands of political prisoners of different ideological streams such as communists, Nasserists, Islamists, Baathists and human rights activists. He now, like thousands of other prisoners, is in need of our support. He was awarded the Netherlands "Lawyers for Lawyers'" Annual Award for his work. This award is given to lawyers who contribute to the prevalence of the rule of law. The award was handed to his daughter Raneem. In 2016 Mr. Maatouk also appeared on the London South Bank University's "Inspired By Law" list, which included 11 names. His listing came after the university's students elected him in 2015 for his contribution for the prevalence of the rule of law, human rights and social justice.
Mr. Maatouk is not the only detainee the Syrian authorities refuse to disclose his fate and whereabouts, his friend Mr. Mohammad Zaza, who was arrested with him, in addition to tens of thousands of detainees whose fate remains unknown.
The Syrian Center for Media and Freedom of Expression (SCM) demands:
Immediate and unconditional disclosure of information about the lawyer Khalil Maatouk's and Mohammad Zaza's fates and their release.  

Disclose information about the fate of all detainees in the Syrian regime's and all armed groups' prisons and releasing them.

SCM stresses on the right to live, the right to just and public trial and the right to receive medical treatment. SCM also holds the Syrian authorities responsible for the safety of civilians, and stresses the importance of meeting the authorities' obligations in international law in this regard.
Everyone can contribute to the defense of Mr. Khalil Maatouk through:
Write to the Special Rapporteur on Human Rights Defenders at:

[email protected]

Post Mr. Maatouk's images on your Facebook and Twitter accounts using hashtag 

#

Freedom_Khalil_Maatouk

#الحرية_لخليل_معتوق #Azadiya_Xelîl_Metûq  

Write to newspapers in your city and country and providing them with information about Mr. Khalil Maatouk. Ask them to pressure the Syrian authorities to unconditionally disclose information about Mr. Maatouk and Mr. Zaza and release them.