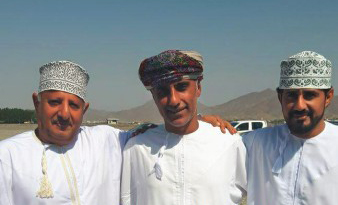 2017-10-24 – The Gulf Centre for Human Rights (GCHR) welcomes the news that journalist Yousef Al-Haj, Deputy Editor of "Azamn" newspaper, was released in Oman on 23 October 2017 at the end of his sentence. "Azamn", an independent newspaper characterised by its anti-corruption reporting since its establishment in 2007, remains closed.
Following the arrest of Editor-in-Chief Ibrahim Al-Maamari and Zaher Al-Abri, a member of the editorial committee, Al-Haj was arrested on 09 August 2017. He was the Acting Editor-in-Chief at the time of his arrest. The three journalists were arrested after "Azamn" published an article on 26 July 2016 entitled "Supreme bodies tie the hands of justice," which referred to the corruption of senior officials and their interference in judicial decisions.
On 07 August 2016, Al-Haj published on his Facebook page an image which referred to the newspaper possessing "an official documents file that condemns Chief Justice of the Supreme Court, Isaac Al-Busaidi, and those with influence who ordered him to disrupt judicial decisions." He said: "I demand protection from this hour." See: http://www.gc4hr.org/news/view/1329
On 09 August 2016, the day Al-Haj was arrested, the Ministry of Information ordered the closure of "Azamn".
On 26 September 2016, the Court of First Instance in Muscat sentenced Al-Maamari, Al-Haj, and Al-Abri, to prison and ordered the newspaper to close permanently. At a hearing held on 26 December 2016, the Court of Appeal in Muscat acquitted Al-Abri while sentencing Al-Haj to one year in prison and Al-Maamari to six months in prison, to include the time they had spent in detention. The court also revoked the decision to shut down "Azamn" newspaper which was issued by the Ministry of Information.
Al-Maamari was released on 10 April 2017.
Despite the ruling by the Court of Appeal, the Supreme Court of Oman issued on 05 October 2017, a final ruling on the closure of "Azamn", ending the paper's fight to reopen and shuttering it permanently. See: http://www.gc4hr.org/news/view/1703
While welcoming the release of Yousef Al-Haj, the GCHR calls on the authorities in Oman to:
Retry the case of "Azamn" newspaper at the Supreme Court, during which Judge Isaac Al-Bousaidi is recused;
Adhere to the Court of Appeal order to re-open "Azamn" newspaper;
Guarantee that journalists and independent media in Oman are able to function freely, and that freedom of expression in Oman is respected according to international standards, including Article 19 of the Universal Declaration of Human Rights.