Activating the "lock screen" for IOS phones
(iPhone)
Phone devices that we use -personal devices or work devices- contain personal files or important files that we do not want anyone else to reach, especially if this happens without our knowledge or permission!
Your phone may also have -email accounts -Facebook accounts, Twitter, WhatsApp, Signal, Telegram, Skype … and many other communication apps. As well as image files.
This means that someone accessing the content of our phone device will be a violation of our privacy, and may constitute inconvenience, embarrassment, and possibly a threat.
For these reasons mainly, you must protect your phone via:
Activate the screen lock.

Activate automatic screen lock.
– Activating the screen lock means that if someone tries to work on your device without your knowledge, they can't access the device unless the password has been entered.
---
Activate the "lock screen"
The method of activating the "lock screen" on IOS (iPhone) devices is slightly different, with some changes between phone versions,
Therefore, you may notice some difference between the steps in this guide and the options in your device
1- Go to "Settings"

2- Click on "General"
On some iPhone devices, it might be one of the following:
Face ID and passcode

Touch ID and passcode
If you have one of the two options, you should go to step –4–
3- Click on the "Passcode Lock"

4- Press "Turn Passcode On"

5- Enter the 4-digit or 6-digit passcode
*Varies by device version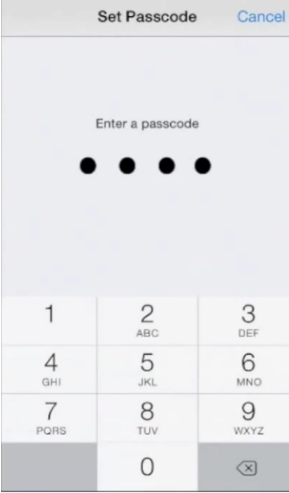 *It's better to go to the "Passcode Options" option on the previous page (passcode), select "Custom passcode"
Allows you to set a passcode that contains letters and numbers.
Or deactivate the "Simple Passcode" option if the device does not have"Passcode Options"
6- Confirm the passcode by entering it again

7- From the "Passcode Lock" page, you must activate the "Required Passcode" option
To lock the screen automatically when the device is not in use

8- From the menu: Specify the time period which the device will be automatically locked when not in use.
Just click on the duration of the list, to be activated.

*For example, when 1 minute is selected, when the device is not used for 1 minute the screen will be automatically locked
*It is best to choose the least time
---
*When writing a password, you must pay attention to some things so it won't get exposed, including:
-No people around you that can see you while typing your password.
-No surveillance cameras in place.
-If you wear glasses, some people can know the password from the reflection of the keyboard on your glasses.
-People can shoot video through a camera or phone, while typing your password.
---