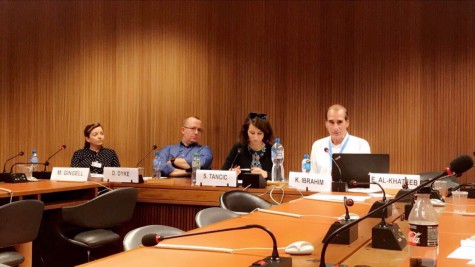 On 21 September 2017, the Gulf Centre for Human Rights together with its human rights partners NGOs, organised a side event during the 36th session of the UNHRC entitled, "Defending the Civil & Human Rights of the Bedoon Community in Kuwait: The ongoing targeting of Bedoon activists"
The speakers of the side event included, Dr. Ebtehal Al-Khateeb, Writer and Academic from Kuwait, Drewery Dyke, Researcher, Middle East and North Africa, Amnesty International
Melanie Gingell, Human Rights Lawyer, United Kingdom and Khalid Ibrahim, Executive Director of the Gulf Centre for Human Rights (GCHR)
Sonia Tancic, from FIDH Geneva office, who moderated the session, said the aim was to highlight the chronic problems facing the Bedoon community in Kuwait and in particular Bedoon human rights defenders and online activists, and the ways in which the international mechanisms including the UN system could support them.
Drewery Dyke, gave an extensive briefing about all aspects of the problem in term of human rights. He called for actions and the need to stop all the discriminatory measure against the Bedoon people in Kuwait.
The following video was screened which shows the plight of the Bedoon in Kuwait:
Melanie Gingell, outlined the legal framework of statelessness and how this is manifested in Kuwait. She emphasized the suffering of the Bedoon community and how the effects of statelessness are often underestimated. She recounted direct testimonies from interviewees from the Gulf Centre research mission and concluded with some ideas about how to move the discourse forward.
Dr. Ebtehal Al-Kateeb addressed the meeting in a short video saying that "the situation of Bedoon has deteriorated rapidly" and added "the Bedoon are pushed or pressurised to produce their passports or papers that are hidden as claimed by the government."
Khalid Ibrahim, said that "the Bedoon community is deprived from their basic rights including the rights to freedom of assembly and that of freedom of expression." He also talked about reprisals against HRDs and the fact that none of them was able to come to talk at the side event including those activists who live in exile and explained "they fear retaliation from authorities against their families."
The meeting concluded by a round of questions and answers.