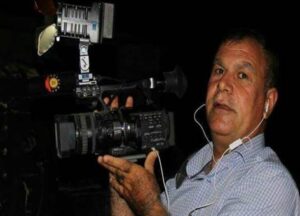 It is with great sadness that the Gulf Centre for Human Rights (GCHR) received news of the murder of photojournalist Arkan Sharif. He was killed in the early hours on 30 October 2017 after a number of unidentified gunmen stormed his house in the village of Haftaghar in Daquq, 40 Km south of Kirkuk city in the north of Iraq, and stabbed him to death.
Sharif, 50 years old, is survived by two daughters and a son. He started working with Kurdistan TV since 2004. He also worked as the head of a primary school in his village of Haftaghar.
Journalists and media personnel in Iraq work in extremely dangerous conditions reporting the news, despite risking death, torture, imprisonment, and harassment by security forces or armed groups. Many have sadly lost their lives.
GCHR urges the authorities in Iraq to:
Open an immediate, independent, impartial and thorough investigation into the killing of Arkan Sharif with a view to publishing the results and bringing those responsible to justice in accordance with international standards;
Ensure that journalists and those exercising their rights to freedom of expression and opinion can do so in a safe environment;
Guarantee in all circumstances that all human rights defenders in Iraq are able to carry out their legitimate human rights activities without fear of reprisals and free of all restrictions including judicial harassment.
GCHR respectfully reminds you that the United Nations Declaration on the Right and Responsibility of Individuals, Groups and Organs of Society to Promote and Protect Universally Recognized Human Rights and Fundamental Freedoms, adopted by consensus by the UN General Assembly on 9 December 1998, recognises the legitimacy of the activities of human rights defenders, their right to freedom of association and to carry out their activities without fear of reprisals. We would particularly draw your attention to Article 6 (b and c): "Everyone has the right, individually and in association with others: (b) As provided for in human rights and other applicable international instruments, freely to publish, impart or disseminate to others views, information and knowledge on all human rights and fundamental freedoms; (c) To study, discuss, form and hold opinions on the observance, both in law and in practice, of all human rights and fundamental freedoms and, through these and other appropriate means, to draw public attention to those matters", and to Article 12 (1 and 2): "(1) Everyone has the right, individually and in association with others, to participate in peaceful activities against violations of human rights and fundamental freedoms. (2) The State shall take all necessary measures to ensure the protection by the competent authorities of everyone, individually and in association with others, against any violence, threats, retaliation, de facto or de jure adverse discrimination, pressure or any other arbitrary action as a consequence of his or her legitimate exercise of the rights referred to in the present Declaration."