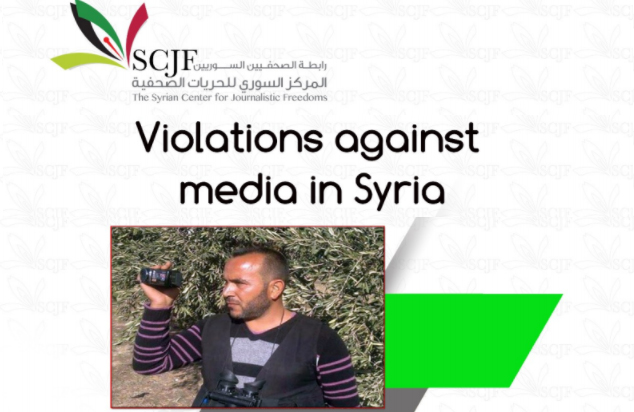 The Syrian Center for journalistic Freedoms said that the periodic report issued on Monday monitored the violations committed against the media during September, in addition to those committed during the previous months of 2017, which monitored by the Center and verified that they match with Center's methodology in documentation.
The Center reported that 7 of the total documented violations occurred during the past month, there is a significant decrease in the committed violations comparing with the month of August which witnessed 21 violations.
According to the report, one of the most highlighted documented violations last month was the killing of two journalists, one of them by the ISIS and the other one by Syrian regime, which raised the number of dead journalists documented by the center since the break out of Syrian revolution in March 2011 to 416.
The Democratic Party of the Democratic Union (PYD) topped the list of those responsible for violations as they committed six violations , the Syrian regime was responsible for 4 violations, and the Russian forces committed three violations, while Hayat Tahrir al-Sham (HTS) responsible for two violations, while ISIS committed one
As for the geographical distribution of violation, Idlib and Hasaka witnessed 4 violations in each province, 3 in the suburbs of Damascus, two in Daraa and similar number of violations was recorded in Aleppo, in addition to one violation in the province of Homs.
At the end of the report, the Syrian Center for journalistic Freedoms renewed its call to respect the freedom of the press and to ensure the safety of media workers and to punish those who are responsible of violations, and to respect the Article 19 of the Universal Declaration of Human Rights, which states: "Everyone has the right to freedom of opinion and expression. This right includes freedom to hold opinions without interference, and to seek, receive and impart information through any media and regardless of frontiers