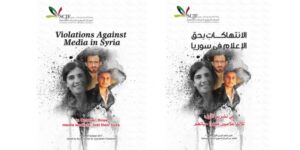 The Syrian Center for Journalistic Freedoms of Syrian Journalists Association documented 14 violations against media in October 2017 in Syria. There is a significant increase in violations committed in October comparing to those committed in last September(5 violations). The increase is a result of ISIS car bombs attack northeastern Syria and direct targeting of media workers by Assad's regime and allied forces as they continue shelling on eastern Ghouta in Damascus' countryside. In addition to other continuous violations against freedom of media committed by different sides of the conflict.
Different acting sides on the Syrian territory are responsible for the violations. Hay'at Tahrir al-Sham (HTS) topped those responsible for violations by committing 5. ISIS committed 4 violations, while each of autonomous administration's forces of PYD and Assad's regime committed 2 violations. One violation committed by unknown side.  
The most significant violations documented by the center in October  were the killing of three media workers and injury of 6 others (some of them were seriously wounded(.
For the first time since January 2016, the Center has documented killing of female media worker in Syria, Delishan Ibish. She and her colleague Hogir Faisal Mohammed killed by ISIS car bombs attack while covering the arrival of thousands of displaced civilians fleeing from ISIS-controlled areas in Deir Ezzor to PYD-controlled areas in Hasaka's southern countryside. 
Media worker Qays al-Kadi was also killed by Assad's artillery shelling on eastern Ghouta. 419 media workers have been killed since the Syrian revolution broke out in 2011. 
Nine violation have been committed in October and also 5 cases of denial of practicing media work. Members of Hay'at Tahrir al-Sham (HTS) prohibited media workers Bilal Bayyoush, Ahmed Khouja, Abdullrazaq al-Madi and Mohammed al-Abdullah from filming and media coverage under the pretext of not having a permission to practice media work issued by HTS.
As for the geographical distribution of violations, Idlib witnessed 5 violations while each of Aleppo and Hasaka witnessed 3. Damascus Countryside witnessed 2 violations as Assad's regime and allied forces have launched a heavy campaign of shelling on the region. One violation committed in Daraa as a result of clashes between ISIS and FSA. 
Finally, Media activist Ibrahim Ali al-Suleiman was released after 25 days of detention by autonyms administration's Asayish in Hasaka.