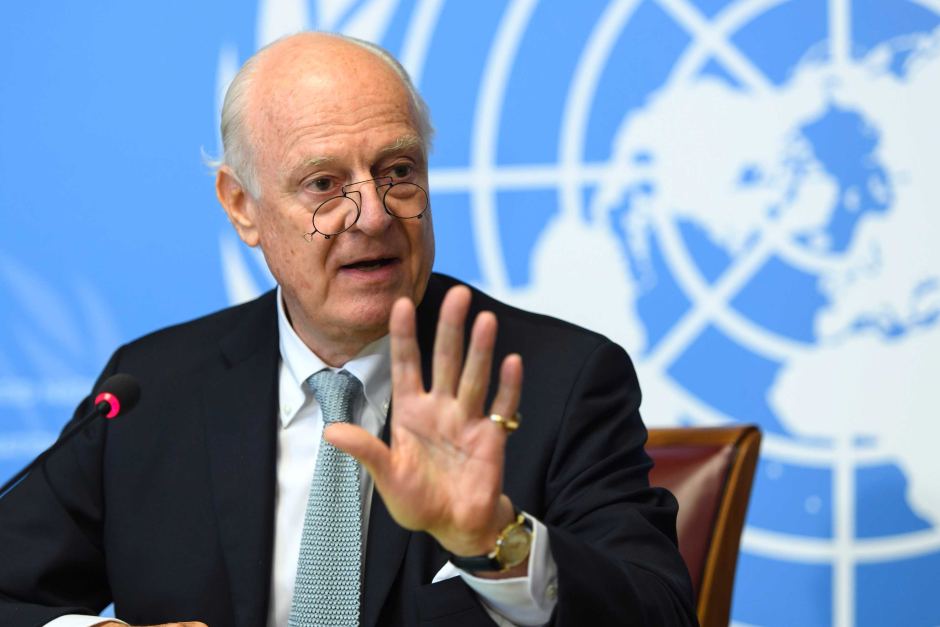 UN Special Envoy to Syria Staffan De Mistura
On August 30, UN Special Envoy to Syria Staffan de Mistura delivered a Security Council briefing regarding the situation in Syria, wherein he spoke of de-escalating violence, advancing the political process, and combatting terrorism. In doing so, the Special Envoy painted an illusorily warm portrait of the current situation. The same week, the UN Commission of Inquiry (COI) on Syria released its latest report, highlighting a tenuous de-escalation process, widespread human rights and humanitarian law violations committed by government forces, and a peace negotiation process lacking inclusion and consensus. The stark contrast in perception of the Syrian peace process' nature and prospects from two entities of the United Nations is concerning. De Mistura's briefing fails to acknowledge the realities of the conflict and the peace negotiation process as they stand today. To underscore these inconsistencies, we have juxtaposed statements made by the Special Envoy with conflicting information provided by the COI's most recent report.
Praising de-escalation zones without acknowledging the risk to civilians.
Both the Homs and Ghouta de-escalation agreements include the evacuation of fighters. Although neither agreement mentions the evacuation of civilians, in the past, civilians have been forced to evacuate alongside fighters after a truce or local ceasefire agreement. Given the past trends and significant harm on local populations, De Mistura's statement fails to acknowledge the risks and condemn any attempt to coerce civilians to leave their homes: "Following a series of agreements with armed groups, including with the active support of Egypt and the Russian Federation, we have seen a significant reduction of violence in parts of the Ghouta de-escalation zone, although not in all of it."
The COI Report, while discussing truces (local agreements between the government and fighting factions that differ from broader de-escalation zones), nonetheless acknowledged the forced displacements that have occurred: "In May, pro-Government officials and mediators on one side, and armed group members and/or local council representatives on the other, negotiated and implemented truces in Barza, Tishreen and Qabun, in eastern Damascus . . . All truces mentioned above have incorporated evacuation agreements, which has led to the forced displacement of thousands of civilians from those areas." The COI report then calls upon all parties to end the forcible displacement of civilians.
It must also be noted that the Ghouta de-escalation agreement provided for the release of 1,500 detainees – yet few have in fact been released. While the reduction in violence due to the de-escalation agreement is praiseworthy, De Mistura should use his position to exert pressure to ensure that the parties abide by international humanitarian law and the terms of the agreement itself.
Painting Russia as a reliable guarantor although it has continually shielded the Assad government's crimes politically at the Security Council and in the media through the denial of wrongdoing.
Since the recent US election, Russia has become the sole broker of talks between the government and opposition factions, so it is obvious why De Mistura is so reliant on Russia in order to advance a negotiated settlement. However, Russia has not played a neutral role in its mediation efforts, instead using its powerful position to shield the Syrian government from blame politically as it supports Syria militarily on the battlefield. As a result, De Mistura's statements appeared naïve in comparison to the reality of Russia's role: "In Homs, we note that the Russian Federation's efforts to reach a ceasefire agreement are continuing. We are worried about reports of shelling and airstrikes north of Homs city, which we believe require the guarantors' urgent attention."
Meanwhile, the COI Report more accurately represented Russia as both a broker of talks and a guardian of the government whenever it is accused of violating international law. The most striking example is, of course, the Khan Shaykhun chemical attack: "Russian and Syrian officials denied that Syrian forces had used chemical weapons, explaining that air strikes conducted by Syrian forces at 11.30 a.m. that day had struck a terrorist chemical weapons depot…. the scenario suggested by Russian and Syrian officials does not explain the timing of the appearance of victims — hours before the time Russian and Syrian officials gave for the strike."
In this light, it is difficult to see how Russia could be relied upon to neutrally monitor local ceasefires and hold the government in check.
Portraying operations against ISIS as coordinated although they are creating increased conflict and tensions.
While the presence of ISIS is indeed a shared grievance between the Syrian government and opposition groups, its eradication is by no means coordinated, nor do advances on extremist strongholds result in rapprochement. On the contrary, Geneva peace talks in July which focused on the international fight against terrorism ended with no breakthrough. Moreover, the Syrian government has recently threatened the US-led coalition against ISIS and repeatedly labeled all opposition factions as terrorists, even if they fight against ISIS and al-Nusra. Despite this, De Mistura depicted the fight against terrorism as a unifying objective with all sides working toward a common goal: "While the Government of Syria is proceeding towards Deir Ez-Zor, the Lebanese army has advanced against ISIL/Daesh on the Lebanese side of the border. The Syrian Democratic Forces and the US-led coalition continue their efforts to eliminate ISIL from Raqqa, while the Russian Federation is supporting the Government of Syria in proceeding towards Deir Ez-Zor."
Yet the COI Report anticipates just the opposite – the reclaiming of ISIS territory by various forces may intensify contentions: "Newly recaptured territory [from ISIS] extends to strategic portions of the Iraqi-Syrian border. In this context, on 18 May and 6 June, air strikes by the United States hit a convoy of pro-Government forces in the strategic Tanf region across the Jordanian and Iraqi borders, potentially escalating tensions in this highly contested area."
Placing primary responsibility on the opposition for complicating peace talks while the government is the party deviating from Security Council resolution 2254.
The Syrian government's unwillingness to discuss any form of political transition represents a failure to comply with Resolution 2254 (2015), a roadmap for peace in Syria unanimously adopted by the UN Security Council. De Mistura, however, put primary blame on the disunity of the opposition for the inability to move forward: "Let me start with the opposition. The opposition invitees to the Geneva talks… have important and urgent work to do to develop common negotiating positions and strengthen their unity. It is high time. . .The Government has indicated that it would be prepared to intensify its engagement with a unified opposition and with clarity on principles that govern the political process."
Meanwhile, the COI directly connects the Syrian government's refusal to discuss political transition with the failure of recent UN peace talks: "The latest round of intra-Syrian talks concluded in Geneva on 15 July. Despite persistent efforts by the Special Envoy, direct talks did not take place, and the rift in positions among parties remains wide. The Government of the Syrian Arab Republic insists on addressing the issue of combating terrorism before any discussion on transition takes place, while the opposition prioritizes discussing a political transition as stipulated in Security Council resolution 2254 (2015)."
Given that the international community has put forth resolution 2254 as the foundation of a negotiated settlement, the government's attitude should be seen as more obstructionist than De Mistura has indicated.
Obscuring government war crimes as military approaches.
The Syrian government has repeatedly employed tactics amounting to war crimes in its pursuit of a military solution in Syria. War crimes by definition are committed in violation of the accepted international rules of armed conflict. Yet De Mistura suggests in his statement that the issue at bar is merely the government favors a military solution over a political one – overlooking the method government forces employ to achieve this: "there are times when strong public signals are sent [by the government] that indicate an exclusively military approach, and a dismissal of the prospects of any meaningful political negotiation." The urgency felt by the international community to end the conflict based on principles outlined in resolution 2254 is not merely to end a military conflict, but to end a conflict that has brutally and systematically targeted civilians.
The COI Report offers a clearer understanding of what is at stake –  ending the use of methods prohibited under international humanitarian law. One excerpt of the report explains government actions in Idlib: Between March and April, when Syrian and Russian forces heightened their aerial campaign . . . These attacks took place shortly before and after Syrian forces used chemical weapons in the same area, thus preventing victims of chemical attacks from obtaining essential medical treatment. In one of the attacks, pro-Government forces used chlorine, while in another they used cluster incendiary munitions. The Commission has previously reported on pro-Government forces using such weapons to attack both medical facilities and individuals providing medical care in eastern Aleppo city."
Every day the conflict continues, more civilians are displaced, more people go missing, more costly destruction takes place, more children are irrevocably scarred, and more atrocities are committed with impunity. De Mistura's statements do not bear the weight of this reality.
Boasting that technical talks have made progress, despite being feeble and fractured.
In July, De Mistura concluded a round of Geneva peace talks by telling reporters there had been "no breakthrough" in negotiations. Since their inception in 2012, the talks have been widely seen as ineffectual. Syrian president Bashir al-Assad himself has called the talks irrelevant and "merely a meeting for the media." Talks in Astana, Kazakhstan – led by Russia, Iran, and Turkey – began this year in an attempt to succeed where Geneva had failed – particularly to establish immediate cease-fire conditions. Yet progress has been minimal and contentious. Astana has produced no substantive breakthrough, and when the Syrian government allies signed a preliminary agreement in May calling for the creation of safe zones in Syria, the opposition delegation exited the room in protest and subsequently suspended participation. Despite the bleak outlook for negotiations in both Geneva and Astana, De Mistura articulates a thoroughly positive account of recent developments: "I briefed you last time on progress we have made with them in two rounds of UN technical talks in Geneva and nearby – there was important substantive progress, which should now be used as a springboard for further efforts."
The COI Report, in contrast, acknowledges the fractured state of negotiations: "While the Astana and Geneva tracks have achieved some progress, a lack of effective enforcement mechanisms and an absence of a wider agreement on priorities within the larger political framework among parties render this progress tenuous. The Commission has consistently called for an inclusive political process and for a nationwide ceasefire beyond localized agreements."
SJAC supports the talks and actively participated in the civil society support room in 2016. Most observers agree that there is no military solution to this conflict. But a negotiated settlement must take into account the realities on the ground and incorporate justice and reconciliation, with a focus on victims' needs, in order have any viable chance of success. De Mistura's overemphasis on counter-terrorism, elections, and a constitution demonstrate that the talks are disconnected from the people affected most by conflict. And his statements to the Security Council exasperated this sentiment among Syrians. SJAC urges the UN Special Envoy to refocus attention to immediate human rights and humanitarian concerns, including civilian access to food and medicine, the release of detainees and the independent monitoring of all opposition and government detention facilities, and the complete end to indiscriminate attacks by all conflict parties. By starting with confidence building measures and a human rights framework, De Mistura will have a foundation to tackle larger, long-term issues like participatory constitution drafting.
For more information or to provide feedback, please contact SJAC at [email protected].