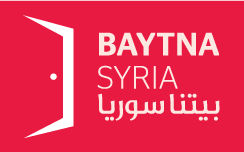 JOB for (Syrians with a valid residency permit or Turkish nationals only)
Closing date:
14 Jul 2017
Baytna Syria was launched in 2013 as a networking, training, and grant-making facility for Syrian civil society organizations, offering support to CSOs based inside Syria and the neighbouring countries.
Baytna Syria is seeking to recruit a Human Resources Manager (HRM) to develop & lead the HR functions at Baytna Syria
Contract Type and Length: Long term employment
Candidate starting Date: ASAP
Job Location: Gaziantep, Turkey
Job Ref: BSHR.V06.17
Main Duties and Responsibilities
Maintains and continuously improves the HR system within the organization and ensures compliance with values, goals and operational standards
Continuously reviews and adapts HR policies and procedures and ensures proper implementation
Maintains full employee records and manages payroll
Leads conflict resolution within the organization and maintains records of all complaints
Develop tools and templates for employee appraisals, training needs and vacation tracking
Leads the recruitment function in identification of suitable candidates for open positions and assigning appropriate pay grade
Leads employee development plans and provides recommendations to senior management
Ensures an amicable and professional work atmosphere is maintained at all times
Performs other related duties as assigned
Qualifications
At least a Bachelor's degree in business management / human resources or any other relevant field of study. An MBA is a plus.
At least 5 years of professional work experience in human resources with at least 2 years in a managerial position
Ability to work in a team and to sometimes tight deadlines in a dynamic and fast-paced work environment
Very good mastering of English and Arabic (both verbal and written)
Excellent knowledge of and expertise in HR theory
Excellent knowledge of Turkish and Syrian labor laws
Ability to communicate with people outside the organisation, representing the organisation to customers, the public, government, and other external sources. This information can be exchanged in person, in writing, or by telephone or e-mail
Ability to create new ideas, relationships, systems, or products, including creative contributions
Proficient in use of computer applications related to the tasks
Experience of working with local NGOs, INGOs and government bodies would be an advantage
HOW TO APPLY:
Please send your CV and cover letter via-email to [email protected] by 14 July 2017 and include the Vacancy Reference number in the subject line. No telephone inquiries, please. Only shortlisted candidates will be contacted. Baytna Syria is an Equal Opportunity Employer.