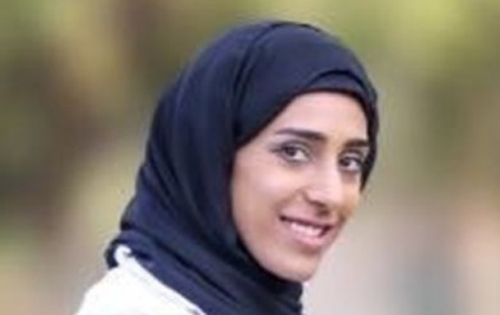 Bahraini woman human rights defender Zainab Al-Khamees, a member of the Bahrain Human Rights Society (BHRS), has been summoned for investigation, and there are fears she will be detained. She is among the many women and men human rights defenders who have been persecuted over their human rights activities, as the authorities seek to pressure them to stop their work.
On 05 September 2017, three military jeeps and a fourth civilian vehicle arrived at the house of Al-Khamees, where a summons letter issued by the General Directorate of Investigations and Forensic Science was handed over requiring her to appear before the agent Khalid Al-Tamimi at 10:30 am on 06 September 2017 in the Prosecutor's office to investigate her human rights activities.
Al-Khamees told the Gulf Centre for Human Rights (GCHR) that "summoning her for interrogation does not require the presence of three military and one civilian vehicles." These methods are often used by authorities in Bahrain to intimidate human rights defenders and other activists and try to force them to stop working to defend the human and civil rights of their fellow citizens.
Many human rights defenders have been interrogated in the past few months, including Ebtisam Al-Saegh, of Salam for Democracy and Human Rights, who remains in detention following her arrest on 03 July 2017. She was interrogated about her work and later charged under Bahrain's Anti-Terrorism Law on 18 July. Al-Saegh was previously tortured and sexually assaulted after a previous arrest in May, after which she refused to give up her human rights work.
Journalist and woman human rights defender Nazeeha Saeed has also been targeted again in the past month. An arrest warrant was issued for her on 14 August 2017 in connection with her conviction in May for "working without a permit," for which she was sentenced to pay 1,000 Bahraini dinars (approx. USD$2650). She is appealing the case so has yet to pay the fine, but is in exile right now so has not been arrested.
Al-Khamees has been barred from traveling since 19 April 2017 and is being targeted as part of a systematic campaign by the authorities directed toward all human rights defenders. She was summoned three times in the past, the first to appear before the CID on 08 April 2015, after participating in a peaceful sit-in in front of the United Nations Building in solidarity with her detained brother and his colleagues. The second time was before the Public Prosecution on 15 November 2016. The third was also before the Public Prosecution, on 23 April 2017, after she was accused of holding a peaceful gathering in the Duraz area, which was used as an excuse to prevent her from traveling.
GCHR believes that the summoning of Zainab Al-Khamees is part of a systematic campaign by the authorities to target all human rights defenders in Bahrain and obstruct their peaceful and legitimate work and prevent them from any external communications. The systematic targeting of human rights defenders for interrogation requires serious intervention by the international community, including the UN, as it is a form of the highest level of reprisals.
 The Gulf Centre for Human Rights urges authorities in Bahrain to:
Stop targeting human rights defender Zainab Al-Khamees immediately and without any condition as she is solely targeted due to her work in the field of human rights;
Withdraw the warrant for journalist Nazeeha Saeed's arrest and overturn her sentence;
Immediately release Ebtisam Al-Saegh among all the detained human rights defenders and other prisoners of conscience in the country; and
Guarantee in all circumstances that all human rights defenders in Bahrain are able to carry out their legitimate human rights activities without fear of reprisals and free of all restrictions including judicial harassment.
GCHR respectfully reminds you that the United Nations Declaration on the Right and Responsibility of Individuals, Groups and Organs of Society to Promote and Protect Universally Recognized Human Rights and Fundamental Freedoms, adopted by consensus by the UN General Assembly on 9 December 1998, recognises the legitimacy of the activities of human rights defenders, their right to freedom of association and to carry out their activities without fear of reprisals. We would particularly draw your attention Article 6 (c): "Everyone has the right, individually and in association with others: (c) To study, discuss, form and hold opinions on the observance, both in law and in practice, of all human rights and fundamental freedoms and, through these and other appropriate means, to draw public attention to those matters", and to Article 12 (2): "The State shall take all necessary measures to ensure the protection by the competent authorities of everyone, individually and in association with others, against any violence, threats, retaliation, de facto or de jure adverse discrimination, pressure or any other arbitrary action as a consequence of his or her legitimate exercise of the rights referred to in the present declaration."