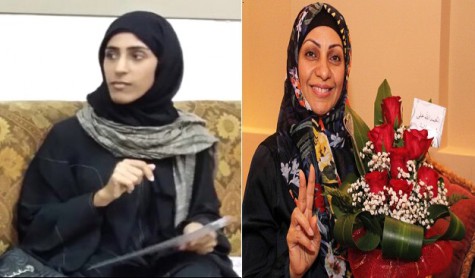 2017-10-23 – On 22 October 2017, Ebtisam Al-Saegh, the monitoring and documentation officer of Salam for Democracy and Human Rights, was released from prison pending trial in Bahrain. While welcoming her temporary release, the Gulf Centre for Human Rights (GCHR) calls for all charges against her to be dropped as they are clearly related to her human rights activities. Alم human rights defenders in Bahrain are either in prison or exile, or prevented from freely working or travelling, such as Zainab Al-Khamees, banned from travel this month.
Al-Saegh was held in solitary confinement in Isa Town Women's Prison since her arrest on 03 July 2017. On 18 July, the Public Prosecution ordered Al-Saegh to be incarcerated for six months pending investigation under the anti-terrorism law. She was subjected to lengthy interrogation and was being held away from other inmates, reportedly to prevent them from hearing her screams. Salam reported that Al-Saegh was on hunger strike in July to protest her treatment. See: http://www.gc4hr.org/news/view/1652
On 18 July, a group of United Nations experts expressed "deep concern at the alleged arbitrary detention of Bahraini human rights defender Ebtisam Alsaegh amid reports she has been tortured and sexually abused and is now on hunger strike."
On 03 July 2017, Al-Saegh was arrested during a raid on her home for the second time in less than two months. Just before midnight, five cars and a minivan arrived at the home of Al-Saegh and a large group of armed security agents, reportedly belonging to the National Security Agency (NSA), raided her home without a warrant.
The incident came just weeks after Al-Saegh suffered torture and abuse at the hands of the NSA. On 27 May 2017, she was summoned to Muharraq police station for questioning about her human rights activities. She was immediately arrested and then tortured and sexually abused by members of the NSA. The security officers also threatened to murder her and her children. She was released seven hours later but had to go directly to hospital suffering from a "severe nervous breakdown."
During the interrogation in May, she was asked about the work of activists inside and outside Bahrain, and about human rights work in Geneva during the sessions of the UN Human Rights Council. For further information see GCHR appeal dated 31 May 2017.
In the past year, the security authorities arrested and tortured many human rights defenders and then released them after forcing them to stop their human rights activities. Other people who were interrogated at Muharaq police station subsequently renounced their work on twitter and stopped tweeting. Only Al-Saegh strongly condemned these illegal practices, describing them on Twitter as a "crime against humanity."
Human rights defenders have been banned from working freely or travelling, including Zainab Al-Khamees, a member of the Bahrain Human Rights Society (BHRS), who was banned from travelling to the Dublin Platform organised by Front Line Defenders Platform on 17-19 October 2017. She was summoned for investigation on 06 September 2017 and interrogated briefly without the presence of her lawyer. She was questioned about her whereabouts on 11 August and accused of taking part in an un-authorised protest in Aali village. See: http://www.gc4hr.org/news/view/1682.
GCHR expresses serious concern at the ongoing trial of Ebtisam Al-Saegh, and about the on-going targeting of Bahraini human rights defenders solely as a result of their peaceful and legitimate human rights activities.
GCHR urges the authorities in Bahrain to:
Immediately and unconditionally overturn the charges against Ebtisam Al-Saegh;
Investigate the use of torture and ill-treatment against Al-Saegh while in detention;
Overturn the travel bans imposed on human rights defenders including Zainab Al-Khamees;
Guarantee that Ebtisam Al-Saegh and all human rights defenders in Bahrain are able to carry out their legitimate human rights activities without fear of reprisals and free of all restrictions including judicial harassment.
GCHR respectfully reminds you that the United Nations Declaration on the Right and Responsibility of Individuals, Groups and Organs of Society to Promote and Protect Universally Recognized Human Rights and Fundamental Freedoms, adopted by consensus by the UN General Assembly on 9 December 1998, recognises the legitimacy of the activities of human rights defenders, their right to freedom of association and to carry out their activities without fear of reprisals. We would particularly draw your attention Article 6 (c): "Everyone has the right, individually and in association with others: (c) To study, discuss, form and hold opinions on the observance, both in law and in practice, of all human rights and fundamental freedoms and, through these and other appropriate means, to draw public attention to those matters", and to Article 12 (2): "The State shall take all necessary measures to ensure the protection by the competent authorities of everyone, individually and in association with others, against any violence, threats, retaliation, de facto or de jure adverse discrimination, pressure or any other arbitrary action as a consequence of his or her legitimate exercise of the rights referred to in the present declaration."