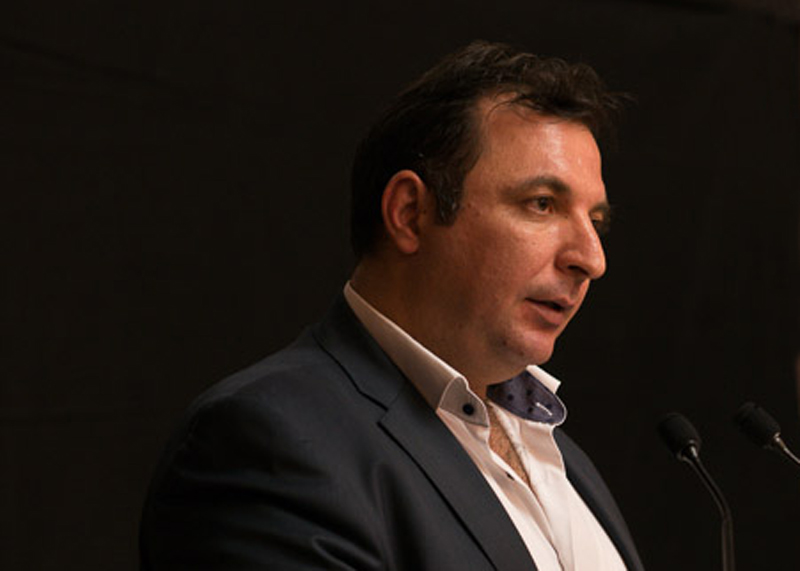 21-9-2017. New York
United Nations Headquarters Conference Room 3


Mrs. Catherine Marchi-Uhel, the Head of International Impartial Independent Mechanism.
Ladies and Gentlemen, Foreign Ministers, Ambassadors and Attendees;
I sincerely hoped that Mr. Staffan de Mistura, the peace envoy to Syria or any of his team, would be present here today, but his interest in the reconstruction meetings seems to be much greater than those about justice in Syria. Which is understandable, as long as his approach to the peace process in Syria is based on the facts of victory and defeat in the military field, while we, the ordinary Syrian citizens who have not and won't be involved in any military conflict; our approach is based on justice and respect of human dignity and legitimate aspirations for freedom, democracy and peace.
Over the past three days, my colleagues at the Syrian Center for Media and Freedom of Expression have been working in Geneva with the missions of UK, Liechtenstein, Switzerland, Canada and New Zealand on a draft resolution at the Human Rights Council on Syria.
In parallel, SCM is working on 9 legal cases before the European courts against war criminals in Syria: 7 of them are against the Syrian regime, and 2 against armed opposition factions.
And By the time we have strengthened our cooperation with the International Commission of Inquiry on Syria, we had already begun the practical preparations for cooperation with the new International, Impartial and Independent Mechanism (IIIM).

Through our work, we always face the question: whether all what we are doing is driven by the desire for revenge? In fact, all this work is for the sake of making a genuine and viable peace in Syria, as there is no peace without justice.
Peace for us as Syrian citizens is not a comfortable job with a good salary, nor a fragile political agreement between warlords who will one day qualify for the Nobel Peace Prize.
Peace in Syria is the future of our country and our children. Therefore, any peace without justice will be only a short break to prepare for a new war fueled by revenge that will take away any possibility of coexistence, stability or diversity in Syria.
Any peace without justice will demolish the hopes of hundreds of thousands of Syrian families who look forward to the day when their loved ones will return from prison, or the day they can know the fate of those who have been forcibly disappeared. Some of the mothers with whom I met simply want a grave they can visit.
Any peace without justice will not allow the safe and voluntary return of refugees. Just a few days ago, a senior officer of the Syrian regime on national television threatened Syrian refugees who are thinking of going back to Syria with retaliation and advised them not to return.
If the international community is really serious about funding reconstruction projects before a genuine political transition in Syria that ensures a just solution to humanitarian issues, and to the rights of victims from all sides within an integrated path of transitional justice, then it is better to allocate the huge sums to build new camps to receive new waves of refugees in Europe.
Any peace without justice will only produce new generation of terrorists. Hundreds of thousands of young Syrians who feel anger, pain and oppression as a result of injustice and abandonment. The moment we tell them that justice is not possible in Syria, and that impunity is a gift for criminals, we practically push them to become "lone wolves" or volunteers with terrorist organizations.

We must not forget our previous experiences in the fight against terrorism. Military actions can destroy terrorist organizations such as Daesh and al-Nusra Front, and give us a declaration of victory. But an ultimate defeat of terrorism and extremist ideology requires justice, democracy, and sustainable development.
Ladies and Gentlemen:
At the time when the Security Council is unable to fulfill its responsibilities towards civilians in Syria, many Member States, including those present here today, have succeeded in presenting an advanced and bold model of collective moral political leadership by adopting a UN General Assembly resolution establishing the International, Impartial and Independent Mechanism (IIIM).
Today, we look forward to you to pursue efforts to adopt a UN General Assembly resolution establishing a special tribunal for war crimes and crimes against humanity committed in Syria. We are fully aware of the difficulty of this matter, but we believe that only moral political leadership can make peace.