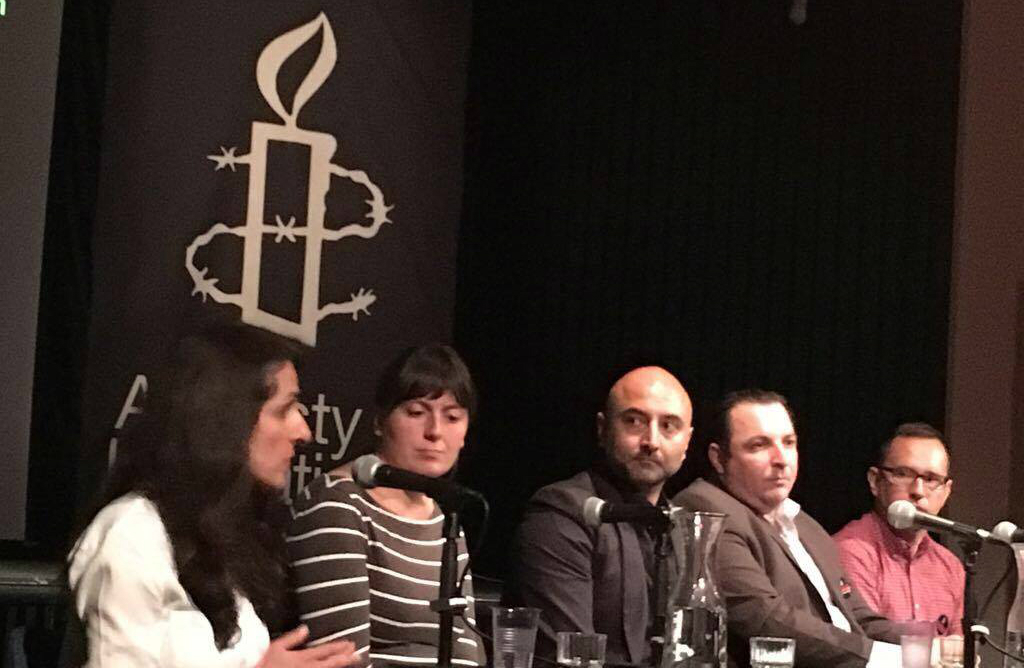 31 August 2017 – On the occasion of the International Day for Victims of Enforced Disappearance, Amnesty international organized on Aug 30th in London an event shedding the light on the question of detainees and victims of arbitrary arrests in Syria.
As part of "JUSTICE FOR SYRIA" campaign, the event that had been held in London city, started with the screening of the documentary film " Syria's Disappeared – The Case against Assad" that reveals some of survivors stories, telling how the Syrian regime has detained tens of thousands of men, women and children in its secret detention centers and security branches based on the testimonies of three survivors, as well as smuggled evidence from inside Syria.
The screening in London was followed by a panel discussion with;
Syrian human rights defender Mazen Darwish, the head of Syrian Center for Media and Freedom of Expression – SCM.
Mr. Philip Luther and Mr. Kristyan Benedict from Amnesty International, in addition to the film director Sarah Afshar, and the producer Nicola Cutcher.

The film weaved together the powerful personal stories of three Syrians with evidence gathered from regime documentation smuggled out of Syria.
With unprecedented access, the film followed survivors of detention, families of detainees, regime defectors and international war crimes investigators as they fight to bring the perpetrators to justice and desperately campaign for the release of the disappeared.
With the participation of SCM's president and number of Human Rights defenders, the discussion panel raised the question of tens of thousands of detainees and their families who are still waiting for a glimpse of hope to know the fate of their beloved ones.
For watching the documentary film "Syria's Disappeared: The Case Against Assad"
For more info about the documentary film "Syria's Disappeared: The Case Against Assad"