DOUMA, Syria (AP) — Razan Zaitouneh earned enemies on all sides of her homeland's civil war.
One of Syria's most well-known rights activists, she was bold, outspoken and defiantly secular. Perhaps most dangerously, she was impartial. She chanted in protests against President Bashar Assad, but was also unflinching in documenting abuses by rebels fighting to oust him.
Then she vanished.
Her fate has been one of the longest-running mysteries of Syria's long conflict. There has been no sign of life, no proof of death since a cold December evening in 2013 when Zaitouneh, her husband and two colleagues were abducted by gunmen from her office in Douma, a rebel-held town on the outskirts of Damascus.
Five years later, bits of clues are emerging: a handwritten threat vowing "I will kill you;" a log-on from her computer after the kidnappers stole it from her office; possible sightings by witnesses and reports of graffiti on a prison cell wall reading, "I miss my mother — Razan Zaitouneh, 2016."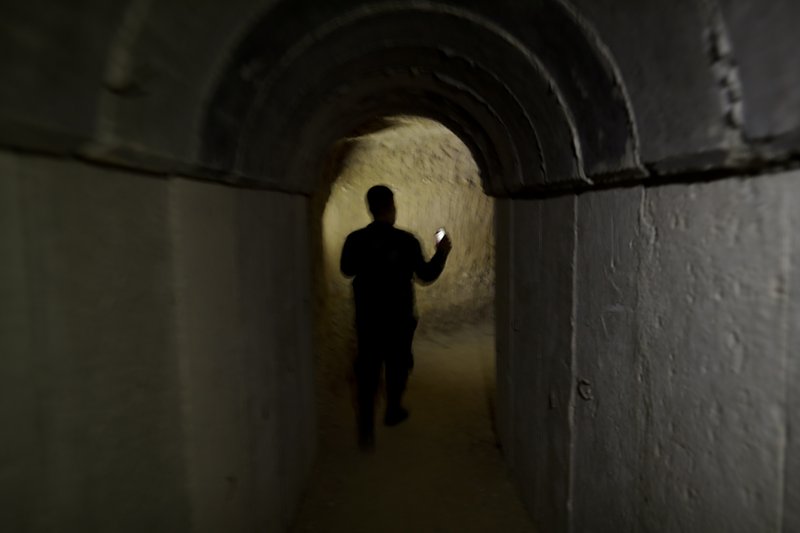 The clues give strong indications that Zaitouneh was taken by the Army of Islam, the most powerful rebel faction in Douma at the time, and was then likely held in its feared Tawbeh Prison. The Army of Islam vehemently denies any role in her disappearance.
It is also likely she was killed, though how long after the abduction is unknown, several friends and colleagues told The Associated Press.
The small hope that she and the others were kept alive in detention was shaken in April, when Syrian government forces retook Douma. The Army of Islam's fighters, their families and thousands of civilians were evacuated north in buses. Prisoners were released. But Zaitouneh and her colleagues did not surface.
An AP team recently toured the abandoned Tawbeh Prison, a compound that once was a desertification research facility for the Agriculture Ministry. The complex was transformed into a dark maze of cells where the Army of Islam held hundreds of people over the years, including opponents.
Graffiti were scrawled on cell walls — names, greetings to families and crude calendars as inmates counted days. Solitary confinement cells were tiny, a meter wide and two meters long with a latrine hole at one end. The complex was laced with tunnels connecting the buildings and leading outside the compound.
The AP interviewed a dozen activists, rebels and acquaintances of Zaitouneh and locals from Douma to assemble what is known about her disappearance. Many spoke on condition of anonymity because they were concerned about upsetting the families or feared reprisals.
Zaitouneh was already well-known before the war as a defense lawyer for political prisoners.
She became one of the faces of the early days of Syria's uprising in 2011, when unarmed protesters took to the streets calling for Assad's removal. With long blonde hair and blue eyes, she chanted and sang at demonstrations. At one rally shown in an online video, she shouts through a loudspeaker, "Civil disobedience will continue until we bring down Bashar Assad's regime."
Under the government's crackdown, the opposition eventually took up arms, and the conflict slid into civil war.
Zaitouneh founded the Violation Documentation Center as well as a network of activists, the Local Coordination Committees. She received a string of international honors; in 2013, then-U.S. First Lady Michelle Obama and Secretary of State John Kerry honored her as an International Woman of Courage.
"She is a woman of principles," said opposition activist Mazen Darwish, who has known her for nearly 18 years. "She is a woman who loves life, open minded and is a good friend."
Zaitouneh went into hiding as Syrian authorities arrested opposition activists in Damascus. In early 2013, she escaped into rebel-held Douma, the largest town in the eastern Ghouta region.
There, she stood out — in appearance and advocacy. Zaitouneh and her colleague Samira al-Khalil went in public without a headscarf in the conservative town, where almost all women wear the headscarf or face veils. She also worked on creating a local administration to provide civilian authority amid the armed groups. Zaitouneh got funding from abroad, money that she used to help victims of the conflict, apparently upsetting the Army of Islam rebels.
At the time, the Army of Islam, made up of religious hard-liners, was consolidating its power in Douma, squeezing out other rebels and imposing strict Shariah rules.
On Dec. 9, 2013, gunmen stormed the Violation Documentation Center. They took the then-36-year-old Zaitouneh, her husband Wael Hamadeh, al-Khalil and another colleague, Nazim Hammadi, as well as all computers and electronic devices. They left untouched a pile of Syrian pounds worth about $60,000 sitting on a desk.
Hamza Bayraqdar, an Army of Islam official, denied his group had any role in the kidnapping. Speaking to the AP, he said Army of Islam brought Zaitouneh to Douma to protect her from the Syrian government.
"Eastern Ghouta was facing major violations by Assad's forces against civilians. The work of Razan and her friends was mostly to document such acts," he said.
But several of those who spoke to the AP said the Army of Islam saw her documenting of abuses as a threat and resented her local administration plan as an encroachment on their power.
Zaitouneh received a series of threats that friends and activists say trace back to Army of Islam.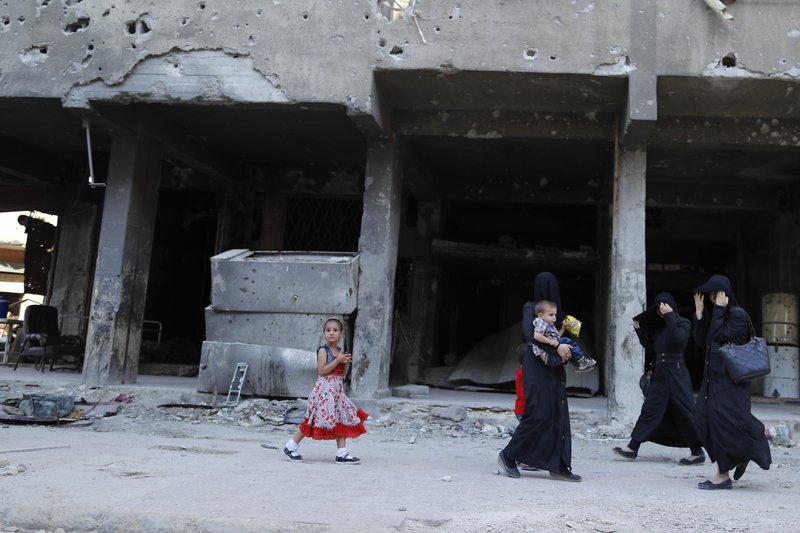 Weeks before the kidnapping, a gunman opened fire in the air outside the VDC office. Soon after, Zaitouneh received a handwritten note giving her three days to leave. Otherwise, "I will kill you. I will kill you. I will kill you. I will kill you, Razan Zaitouneh," it read.
An Army of Islam official, Hussein al-Shazli, later confessed in a local court that he delivered the note on orders of the group's command, Darwish said. But the court released al-Shazli after Zahran Alloush, the Army of Islam's leader, intervened.
Despite the threats, Razan refused protection, said Mohammed Kattoub, a dentist living in Douma at the time who was in contact with the VDC team. He saw the handwritten threat.
"She has a very strong personality and said, 'I can protect myself.'"
A witness later told VDC members that, the morning after the kidnapping, he saw three hooded women being held in an apartment near Douma's main Martyrs Square, said Ossama Nassar, a close aide to Zaitouneh who ran her office in Douma after her kidnapping, until he left the town earlier this year as part of the evacuation.
Nassar believes the prisoners were in fact Zaitouneh, al-Khalil and Hammadi, who had long hair. The apartment was likely a stopover before they were moved elsewhere.
Shortly after the incident, the man who lived in the apartment was found dead, Nassar said.
Also found dead was the owner of a refrigerator truck used as a getaway vehicle in the kidnappings, said Ahmad Taha, the commander of a rebel group that was later crushed by the Army of Islam. The killings raised suspicion that the culprits were covering their tracks.
Those who follow the case believe Zaitouneh and her colleagues were held in Tawbeh Prison.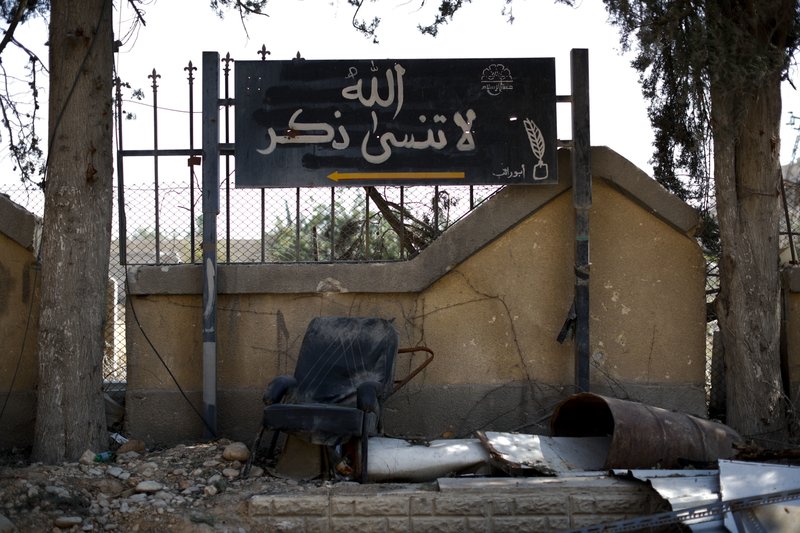 One former prisoner said she saw Zaitouneh there, and when VDC members showed her a line-up of pictures, she picked out Zaitouneh, Nassar said. Nassar said several witnesses reported the prison message allegedly scrawled by Zaitouneh about her mother, dated 2016 — which, if confirmed, would mean she lived for several years after the kidnapping.
Also, one of the computers taken from the VDC was activated from inside Tawbeh prison, according to one prominent figure from Douma who spoke to the AP, saying the IP address was traced to the Army of Islam. Al-Khalil's husband, Yassin Haj Saleh, made a similar claim in an article he wrote in 2014.
Haj Saleh refused to comment when contacted by the AP. Attempts to reach other relatives of the missing were unsuccessful. Zaitouneh's sister and mother did not respond to requests for an interview.
Almost all who worked with or knew Zaitouneh are scattered, either elsewhere in Syria or abroad, meaning there is no one to search for her — or her grave.
There are multiple reports on where she and the others may be buried. One figure in Douma said his information was that Army of Islam buried them in al-Ebb, a nearby farm area. Another said he believed they were buried in Housh Nasri, a nearby village.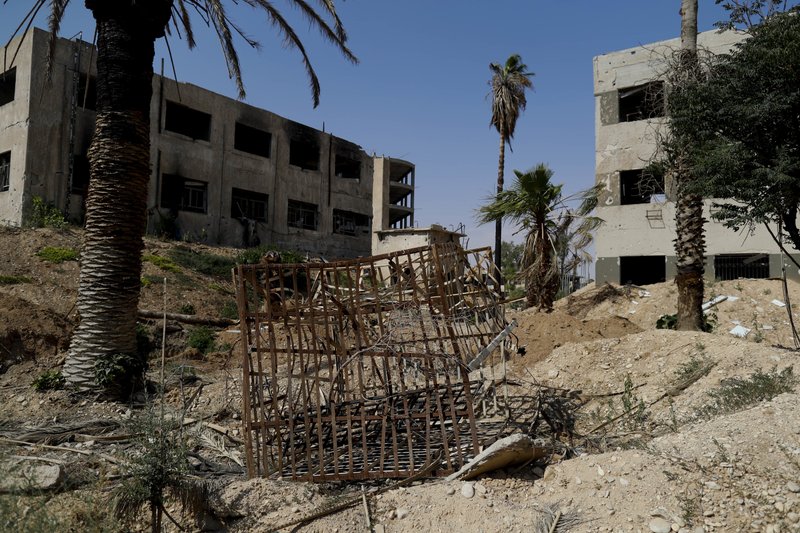 Another possibility is Nashabiyeh, a town several miles away. An official with a pro-government group said his group and the Syrian military were digging up a mass grave filled with bodies of their fighters, killed by the Army of Islam. He said he had information Zaitouneh could be there too. He spoke on condition he and his group not be named because their presence in the area is sensitive.
Darwish said there is proof Zaitouneh was in the Army of Islam's jails until early 2017, after which all information was cut.
"After the Army of Islam left Douma, regrettably, the possibilities are headed more and more toward the worse," he said.
Original article by AP:
https://apnews.com/ab3868ab92f84b009e4b6d9bc8bdfbb3