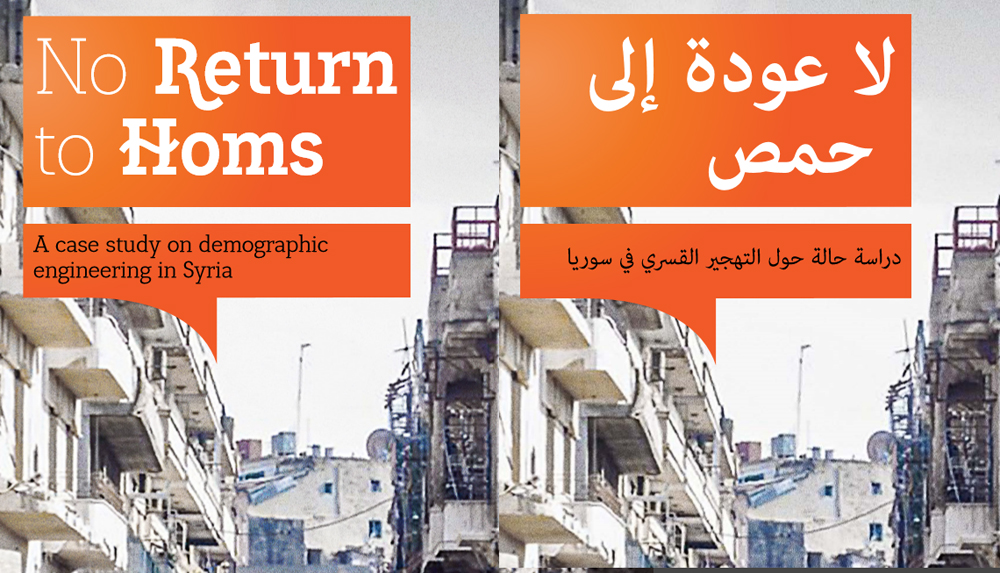 State-directed population displacement has become a defining feature of the Syrian conflict. Through a strategy of siege, starve, destroy, and transfer, the Syrian government – aided by its allies Russia and Iran – has displaced hundreds of thousands of civilians from rural and urban centers in Damascus, Aleppo, and Homs that rebelled against the rule of Bashar al-Assad, contributing to a crisis that has seen more than half of all Syrians driven from their homes. In addition to the often-catastrophic physical damage inflicted on the infrastructure of depopulated areas and the immense physical and psychological harm wrought on the displaced, this forcible displacement strategy has long-term disruptive cultural and socioeconomic implications that will complicate Syria's prospects for future peace and reconciliation.
This report explores the mechanisms and impacts of state-led demographic engineering in Syria through a case study of Homs city, which in 2014 became the first major urban center to succumb to the government's siege and destroy strategy. The goal of this study is to understand what has happened to Homs city and its displaced residents in order to highlight continuing challenges for the displaced, to identify lessons that can improve the response of international actors, and to better understand the dynamics playing out today in other Syrian cities and towns targeted by the government's forced displacement strategy.
This case study first presents background on Homs city and an overview of the course of the conflict from the start of protests in 2011 through the destruction and depopulation of much of the city center by mid-2014. It explores the aftermath of the siege and examines the role played by the United Nations in post-siege developments. The analysis and discussion throughout the report is informed by interviews, conversations, and surveys conducted with former residents of Homs city who were displaced between 2011-2014.
This report shows that the government's displacement strategy in Homs city is a form of demographic engineering, which seeks to permanently manipulate the population along sectarian lines in order to consolidate the government's power base. Former residents of Homs continued to face persecution even after their initial displacement and many are trapped under siege in other parts of the governorate to this day. Interviewees identified a long list of physical and administrative barriers created by the Syrian government that prevent them from returning to their homes. As a result, they are effectively excluded from rebuilding efforts undertaken by the Syrian government in cooperation with UN agencies with the support of foreign donor states.
Under these conditions, international support for Syrian government efforts to rebuild the Homs neighborhoods that it intentionally destroyed and depopulated may serve to incentivize similar atrocities elsewhere by paying the government "war crimes dividends" instead of holding it accountable. Indeed, the 'Homs model' has served as a blueprint for the destruction and depopulation of other key locations such as Darayya and eastern Aleppo in 2016.
The scale, scope, and nature of forced displacements from places like Homs city present a formidable challenge to future stability in Syria. National reconciliation will be unable to move forward without addressing complex issues of repatriation and property rights. In this sense, premature rebuilding efforts in places like Homs city that lack conflict-sensitivity can reinforce injustices, deepen sectarian schisms, and create new grievances that will undermine progress towards a solution and lay the groundwork for future conflict.
Physical reconstruction efforts in places like Homs should be undertaken only as part of a holistic, conflict-sensitive recovery strategy that combines conditional reconstruction support with efforts address the rights, concerns, and priorities of the displaced.
This report was prepared by The Syria Institute with support from the PAX team.
To download PDF Copy: English – Arabic
To read the report: