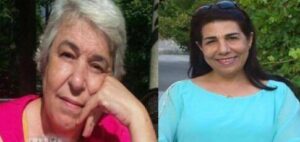 Mada organisation for cultural and intellectual development in Berlin invites to attend the event: 'Feminist literature, the ambiguous literature'. Readings and open discussion with:
Nema Khaled (Palestinian – Syrian novelist) and Najat Abdulsamad (Syrian novelist) On Saturday 11th of November,2017, At 07:PM .
Address: Ulmenallee 35, 14050 Berlin.
Nema Khaled
worked in journalism & participated in many Arab and international cultural events.
Some of her works:
The confrontation – Short stories.
The Hennah night – Novel.
Women – short stories.
Najat Abdulsamad,
Born in 1967. A Syrian novelist and a doctor.
Some of her works:
The land of exiles – Novel. Published by : Riyad Al-Rayes for publishing. Lebanon 2010.
Syrian Guernica. Published by : Madarek – UAE. 2013.
In the tenderness of war. Published by: Madarek- UAE. 2015.
No water to irrigate it – Published by : Difaf publishments / Ikhtilaf publishments. Beirut, 2017.
Translated the Russian novel:
'Memories of a young doctor' by Mikhail Bulgakov.
2015 : published articles and researches in Lebanese and Arab journals , websites and Arab studies centers.