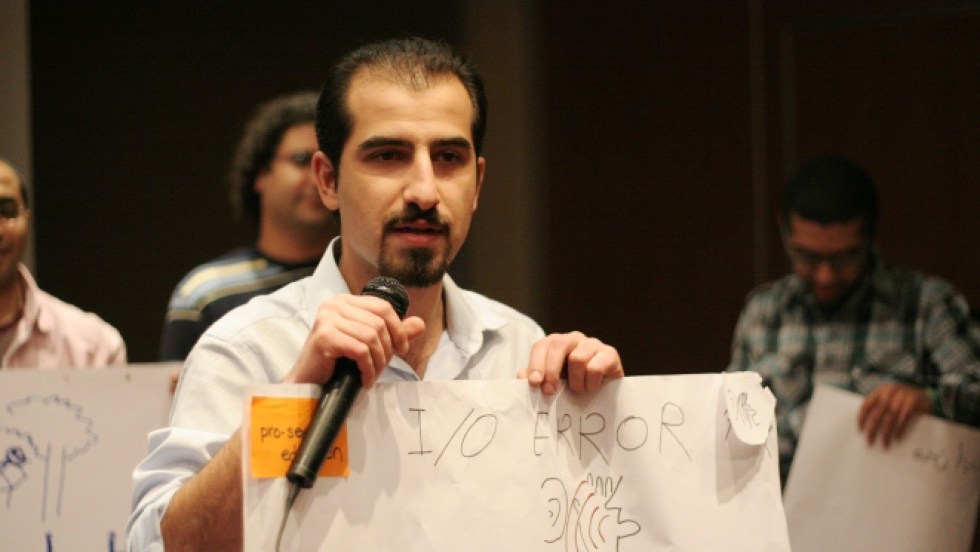 On behalf of Bassel's family and all of us gathered here; Bassel, whose body is absent, but he is still present in our hearts.
We really thank all those who have supported us: friends, journalists, and activists.
Your solidarity was a relief and comfort that filled our hearts with love and filled our souls with hope.
We call on everyone not to be dragged behind feelings of hatred and revenge so justice can prevail. Also, we ask you for some restraint when reacting with our our case in a manner worthy of Bassel's values and peaceful approach.
Knowing that in this insane conflict there are thousands of detainees and disappeared from all sides who may have the same fate.
We, as a family, who's been affected declare to the world that we stand for all of the detainees and we are terrified of the thought that another syrian family is having to go through what we suffered.
It is only natural and our humane right of every family to receive the body of her son, we demand remains of Bassel's body to be returned so we can burry him and mourn him properly.
In addition, we call for the abolition of such exceptional courts, putting an end to the death sentences and conducting fair trials according to the Syrian law and international law.
We also demand that the detainees' file is treated as a priority within international agreements to ease the way for peaceful solution to all Syrians.
Long live Syria
Long live Palestine