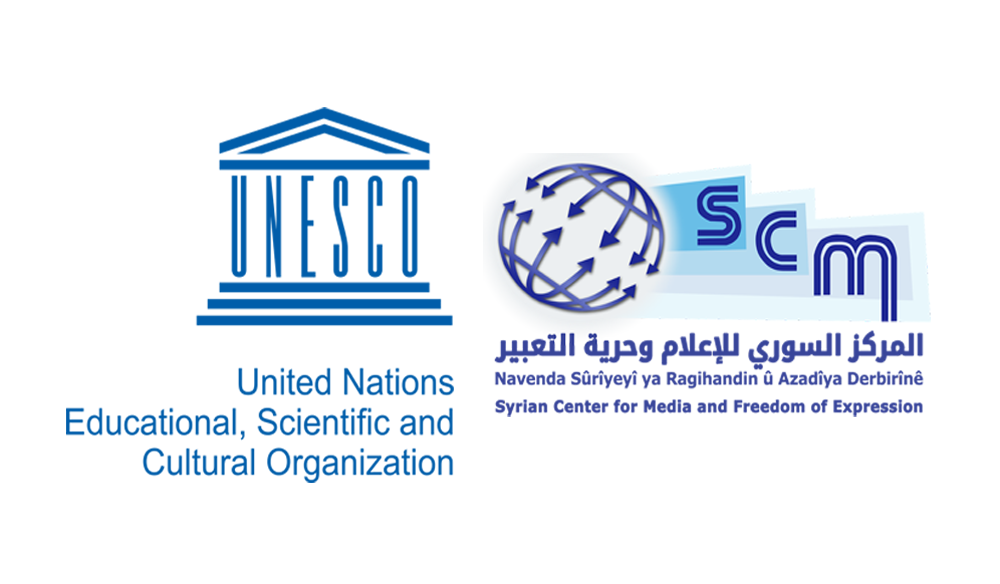 [06 September, 2017] – Stemming from their belief in the constructive role of media and freedom of speech in peace building and standing against violence and extremism, Syrian Center for Media and Freedom of Expression (SCM) and the United Nations Educational, Scientific and Cultural Organization (UNESCO) launch a project titled 'Observatory of Hate Speech and Incitement to Violence.'
"When countering hate speech, we should remember that the freedom of expression is based on respect of equality and dignity in particular and respect of human rights, in general. UNESCO is partnering with the Syrian Center for Media and Freedom of Expression to counter hate speech in Syrian media based on its active work in promoting democracy, fundamental rights, and transitional justice in Syria, through its Hate and Violence Speech Observatory. The project aims at monitoring and countering hate speech to secure a professional media environment," explained Sylvie Coudray, Chief of Freedom of Expression Section at UNESCO.
This new cooperation between the two organizations aims to influence Syrian media to reduce its use of hate speech and consequently reduce its destructive impact on the Syrian society. This comprises a new step towards achieving civil peace in Syria and building towards an environment where freedom of speech could flourish in the country.
Since its foundation in 2004, SCM works towards building democratic societies based on justice, freedom and equality that respect human dignity and human rights. SCM believes that the freedoms of expression and belief form key pillars of democratic societies. To this end, SCM works with media and civil society to promote, support and disseminate these freedoms.
"SCM believes in the major role of Syrian media in providing first-hand information on Syria and its ability to influence the local and international views and prejudices, and this is where the importance of this project comes from," said the Head of Media & Freedoms Unit in SCM Hunadah Al Hariri. "Providing a context where both technical support and accountability criteria and measures are provided can bring us one step closer to controlling the use of hate speech and incitement of violence."
With the beginning of the 2011 demonstrations in Syria, hundreds of local media initiatives emerged to disseminate Syrian voices that had been silenced for decades. Over the past six years, the use of hate speech, incitement to violence and terrorism, sectarian incitement and discrimination against women and marginalized groups has increased alarmingly in Syrian media.
This growing cycle of violence requires us to seek the right balance between freedom of expression, the most fundamental human right, on the one hand, and the equally important need to protect societies and individuals from discrimination and violence.
The Hate Speech Observatory seeks to build a broader partnership with local and international media and civil society organizations to build on and tailor previous similar endeavors in the implementation of this project.
The project focuses on building a pool of trained Syrian media monitors, monitoring Syrian media content to assess the presence and the impact of hate and incitement speech, and to raise awareness in the Syrian media community of its causes and consequences, and creating tools and criteria to consequently reduce its use.
History is full of examples that show how the media could actively contribute to civil peace or war. The media has the ability to play a major role in creating and reinforcing stereotypes that lead to division, discrimination and racism, that may directly lead to the loss of hundreds of thousands of lives. Through this partnership with UNESCO, SCM sees an opportunity to use media monitoring as a tool to act to prevent similar consequences in Syria and encourage the development of peace-building media.