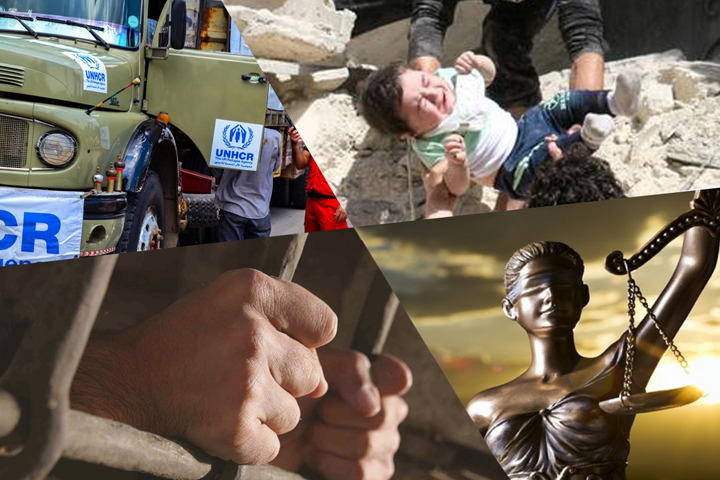 Ending Unlawful Attacks; Access to Aid; Detainee Rights; Justice; Security Sector Reform
+++ French Below the English Copy +++
(Geneva, February 21, 2017) – Participants in the February 23, 2017, UN-sponsored Syria peace talks in Geneva should prioritize five key human rights issues during negotiations, 37 human rights and other organizations said today. The priorities are to end unlawful attacks, ensure aid access and safe passage for fleeing civilians, detainee rights, justice, and security sector reform.
Achieving respect and promotion for human rights during any transition and post-conflict will require key legislative and constitutional amendments to enshrine rights protection in law, the groups said. This should include a constitutional amendment that states that all ratified international treaties and law are binding in Syria. The transformation of Syria into a state that respects human rights and upholds the rule of law should be a Syrian-led process, with transparent reform following local consultations.
Other countries attending the UN-led meetings in Geneva should use their influence over the warring Syrian factions to ensure that the basic human rights of Syrians are on the agenda.
The UN special envoy to Syria, Staffan de Mistura, has explained that the agenda at the talks will mirror the objectives outlined in UN Security Council Resolution 2254 from December 2015. In the resolution, the Security Council expressed its support for establishing inclusive and non-sectarian governance, the drafting of a new constitution, and free and fair elections. It emphasized the need for "a ceasefire monitoring, verification and reporting mechanism"; called on the parties to facilitate the unhindered delivery of aid and the release of anyone held arbitrarily; and demanded an end to attacks on civilians and civilian objects and the indiscriminate use of weapons.
End to Unlawful Attacks
While the parties to the negotiations are striving to negotiate peace, any transition agreement should make explicit that the parties to the conflict will adhere to the laws of war in any ongoing fighting. Any agreement should include a commitment by Syrian government and Russian forces to immediately stop using indiscriminate weapons such as cluster munitions and incendiary weapons and to end indiscriminate attacks on populated civilian areas and other unlawful attacks.
Opposition forces should also agree to end indiscriminate and other unlawful attacks, including with car bombs and mortar strikes on civilian areas under government control. The US-led coalition should take necessary precautions to minimize harm to civilians and civilian infrastructure and should ensure that credible reports of civilian casualties are effectively and impartially investigated and publicly reported on.
Despite a ceasefire in late December 2016, unlawful attacks continue, including in Wadi Barada in the Damascus countryside, Idlib, and other parts of the country. In the early morning hours of February 1, an airstrike hit the Syrian Arab Red Crescent building in Idlib, injuring the center's director and badly damaging the building. On February 10, UNICEF reported that at least 20 children had been killed in violence in Idlib, al-Zahraa, and al-Waer neighborhoods in Homs, and in Eastern Ghouta, in the Damascus countryside.
In light of the Syrian government's repeated war crimes and widespread and systematic human rights violations, including the unlawful use of weapons, all states, including those involved in the negotiations, should make a commitment to stop transferring all arms, related equipment, and logistical support to the Syrian government until the abuses stop and responsible parties are held to account. States should also stop providing such support to armed opposition groups that have been found responsible for widespread or systematic human rights abuses or war crimes.
The US-led coalition should take fully into account that the Russia-Syria coalition has repeatedly committed war crimes under the guise of fighting terrorism, and that any cooperation with Russia in the fight against the Islamic State (also known as ISIS) in Syria should ensure that it is not complicit in such crimes.
Humanitarian Access and Safe Evacuation of Civilians
Under international humanitarian law, all parties to an armed conflict are obligated to facilitate rapid and unimpeded aid to all civilians in need and allow civilians to freely leave an area under siege. Starvation of the civilian population as a method of warfare is prohibited. According to the UN Office for the Coordination of Humanitarian (OCHA), 4.9 million people live in besieged or hard-to-reach areas in Syria. These areas suffer from bombing and inadequate aid, nutrition, water, and medical care.
The siege of civilian areas by government and pro-government forces and by armed opposition groups and blocking of aid delivery has continued despite the ceasefire. Conditions in areas besieged by government and pro-government forces have rapidly deteriorated, forcing civilians to leave these areas.
According to OCHA, 4 million people in Damascus and its environs were cut off from drinking water from then-opposition-controlled Wadi Barada and Ain-el-Fijah "due to deliberate targeting resulting in the damaged infrastructure." Bellingcat, a citizen investigative journalist group that investigated the damage to the water supply found that "the most likely scenario is that the regime was responsible for the damage to the spring structure." The civilian population in Damascus was without clean water for weeks while the parties exchanged accusations and negotiated a deal for repairing the supply line.
In February 2014, the UN Security Council passed resolution 2139 to guarantee the delivery of aid, calling on all sides in the Syrian war to facilitate humanitarian access to all parts of Syria. In light of the Syrian government's failure to comply, the council passed resolution 2165 on July 14, 2014, authorizing UN agencies and their implementing partners to deliver aid across four borders not controlled by Syria's government in addition to those already in use. Resolution 2165 was renewed in December 2016 until January 10, 2018.
Despite the Syrian government's persistent non-compliance with the UN Security Council's resolutions on immediate aid delivery, the council has not taken any further measures, despite affirming that it would in resolution 2165. On December 5, Russia once again used its veto to block UN Security Council action on Syria. The draft resolution would have called for a seven-day pause in hostilities in Aleppo and demanded safe access to provide aid.
Concerned governments should push both the Syrian government and opposition delegations to make an immediate commitment to allow all civilians who wish to leave besieged areas to do so and to allow immediate access for aid to come in across border and conflict lines, without impediment.
All parties to the conflict should commit to ensuring that any evacuations of civilians are conducted in accordance with international humanitarian law. UN and other institutions should be given access to monitor and report on evacuations. Evacuations of civilians should be voluntary and to places of their choosing, and both those that choose to remain or to flee should be protected.
Justice
On December 21, 2016, the UN General Assembly adopted a resolution establishing a unit to assist in the investigation of serious crimes committed in Syria since 2011, which will help pave the way to justice after years of unchecked atrocities. Countries that voted for this unprecedented resolution should support the investigative unit, including by contributing financial resources to its work. This and other documentation efforts, including by the UN Commission of Inquiry, will be vital to future domestic and international accountability processes. These initiatives may help build some momentum for justice as well as send a strong message to Syrian victims that serious crimes committed against them won't go unanswered.
The parties to the conflict, including the Syrian government, should make a commitment to cooperate with the investigative unit and the UN Commission of Inquiry.
The international community should continue to work to lay the groundwork for a concrete and credible justice process for the long-term. Governments that supported efforts to give the International Criminal Court (ICC) a mandate in Syria should remain committed to seeking justice for victims, whether in the UN Security Council, UN General Assembly, UN Human Rights Council, or through other avenues, including the use of universal jurisdiction. Other countries should make clear that justice is an essential component of any future peace – including at any negotiations in Geneva.
Proposals to grant immunity to anyone implicated in serious crimes should be rejected. The parties should also make a commitment to review and amend any provision in Syrian law that grants immunity to security forces and to carry out broader reforms to equip the country's justice system to address serious crimes alongside other tribunals, including potentially the ICC.
Broader truth-seeking mechanisms and programs for ensuring reparation for victims and families, and vetting to bar perpetrators from official positions will also be needed. Any agreement should include a commitment by the negotiating parties to a national commission with a mandate to reveal the fate of the disappeared and to investigate torture, extrajudicial executions, and other serious human rights violations.
Security Sector Reform and Release of Detainees 
Since the beginning of the uprising in Syria, security forces have arbitrarily arrested, unlawfully detained, forcibly disappeared, and ill-treated, tortured, and killed thousands of people, using an extensive network of detention facilities throughout the country. Those arrested include peaceful protesters, human rights defenders, and activists involved in organizing, filming, and reporting on protests as well as journalists, aid providers, lawyers, and doctors.
Any transitional plan needs to include a commitment to establish an independent vetting mechanism for current and potential senior security officials. Any against whom there is evidence suggesting their involvement in crimes under international law and other serious human rights abuses should be suspended from their positions or prevented from taking up new security positions pending a full investigation. Wherever there is sufficient admissible evidence of responsibility for international crimes, suspects should be prosecuted in fair trials.
Syria's multiple security agencies should also be required to report to and be accountable to any transitional government. The parties should agree to institutional reforms aimed at ensuring that the human rights violations of the past will not be repeated.
A large number of peaceful protesters, and political and humanitarian activists remain in incommunicado detention while others have faced trial, some of them before military and counterterrorism courts, for exercising their rights. Armed opposition groups, mainly in opposition-held territory in northern Syria, have also arbitrarily detained people, including journalists, aid workers, and activists who have criticized them.
Any agreement should include a commitment to release political detainees, journalists, aid workers, and human rights activists in their custody and to grant independent monitors access to detention facilities and to all those deprived of their liberty. One effective way to ensure these steps would be to create an independent commission to review cases of those detained, monitor their treatment in detention, and ensure their release. To properly pursue its mission, the commission should be granted access to all detention facilities.
The parties should also make a commitment to repeal or reform laws that criminalize the exercise of the rights to peaceful expression, assembly, and association, including the July 2012 counterterrorism law, which criminalizes nonviolent activism and opposition to the government. An explicit commitment should be made to not detain or prosecute aid workers who were operating in opposition-held territory, including those who provided medical assistance to the sick, injured, or wounded – whether civilians or fighters – in accordance with the laws of war.
The parties should also commit to enshrining in Syrian law all the basic protections and safeguards for detainees guaranteed by international law, including the prohibition of arbitrary detention, the obligation to inform a person who is arrested of the reasons, and the obligation to provide detainees with an opportunity to challenge the lawfulness of detention by a court. Those deprived of their liberty, regardless of where they are held, should have regular access to lawyers, family members, and medics.
Signatories
11.11
Al Kawakibi Organization for Human Rights
Amnesty International
Association for Peace, Justice and Documentation
Assyrian Human Rights Network
Bridge of Peace Syria
Cairo Institute for Human Rights Studies
Christian Aid
Democratic Republic Studies Center
EuroMed Rights
FIDH – International Federation for Human Rights
Fraternity Foundation For Human Rights
Global Centre for the Responsibility to Protect
Helen Bamber Foundation
Human Rights Guardian
Human Rights Watch
IHH Humanitarian Relief Foundation
Justice for Life Organization
Middle East and North Africa Partnership for the Prevention of Armed Conflict
Non-Violence Network in the Arab Countries
Permanent Peace Movement
Physicians for Human Rights
Refugees International
Souria Houria
Syria Charity
Syrian Center For Legal Studies and Researches
Syrian Center for Media and Freedom of Expression
Syrian Center for Statistics and Research
Syrian Institute for Justice
Syrian League for Citizenship
Syrian Network for Human Rights
Syrians for Truth and Justice
The Day After
The Violations Documentation Center in Syria (VDC)
Trócaire
URNAMMU
Vision GRAM-International
+++++  French +++++++
Syrie : faire des droits humains une priorité des pourparlers de Genève
Mettre fin aux attaques illégales ; accès à l'aide ; droits des détenus ; justice ; réforme du secteur de la sécurité
(Genève, le 21 février 2017)  – Aujourd'hui, 37 organisations de défense des droits humains et d'autres organismes ont déclaré que les participants aux pourparlers de paix de Genève organisés par les Nations Unies le 23 février 2017 devraient se concentrer sur cinq grands enjeux dans le domaine des droits humains au cours de ces négociations. Les priorités immédiates sont de mettre un terme aux attaques illégales, de garantir un accès à l'aide ainsi qu'un passage sans danger pour les civils en fuite, de défendre les droits des détenus, et d'assurer la justice et la réforme du secteur de la sécurité.
Pour faire respecter et promouvoir les droits humains pendant une période de transition ou après un conflit, il est nécessaire d'élaborer des modifications constitutionnelles et législatives majeures afin d'inscrire dans la loi la protection de ces droits, rappellent ces organisations. Cette démarche devrait englober une modification constitutionnelle stipulant que l'ensemble des lois et des traités internationaux ratifiés sont obligatoires en Syrie. La transformation de la Syrie en un État qui respecte les droits humains et maintient l'état de droit est un processus que les Syriens devraient piloter, en appliquant une réforme transparente à l'issue de consultations locales.
Les autres pays participants aux réunions des Nations Unies à Genève devraient user de leur influence sur les factions syriennes en conflit pour faire en sorte que les droits humains fondamentaux des Syriens figurent à l'ordre du jour.
L'envoyé spécial de l'ONU pour la Syrie, Staffan de Mistura, a expliqué que l'ordre du jour de ces négociations reflèterait les objectifs présentés dans la résolution 2254 du Conseil de sécurité des Nations Unies de décembre 2015. Dans cette résolution, le Conseil de sécurité s'est déclaré favorable à l'établissement d'une gouvernance inclusive et non sectaire, à l'élaboration d'une nouvelle constitution et à des élections libres et équitables. Il a souligné la nécessité de mettre en place un « mécanisme de suivi, de vérification et de surveillance du cessez-le-feu », engagé les parties à faciliter l'acheminement de l'aide humanitaire sans entraves et la libération de toute personne détenue arbitrairement, et exigé qu'il soit mis un terme aux attaques sur les civils et les biens de caractère civil ainsi qu'à l'utilisation aveugle d'armes.
Mettre fin aux attaques illégales
Tandis que les parties aux négociations s'efforcent de négocier la paix, tout accord de transition devrait clairement préciser que les parties au conflit respecteront les lois de la guerre dans la poursuite des combats. Toute entente conclue devrait inclure un engagement du gouvernement syrien et des forces russes à cesser immédiatement d'utiliser des armes d'emploi aveugle, telles que les armes à sous-munitions et les armes incendiaires, et à mettre un terme aux attaques sans discrimination contre des zones civiles peuplées ainsi qu'à d'autres attaques illégales.
Les opposants devraient par ailleurs accepter de mettre un terme aux attaques sans discrimination et autres attaques illégales, notamment les attentats à la voiture piégée et les tirs de mortier sur des zones civiles sous contrôle gouvernemental. La coalition menée par les États-Unis devrait prendre les précautions nécessaires pour minimiser les torts causés aux civils et aux infrastructures civiles et veiller à ce que des rapports crédibles faisant état des pertes civiles soient examinés objectivement et rendus publics.
Malgré un cessez-le-feu en décembre 2016, les attaques illégales se poursuivent, notamment à Wadi Barada près de Damas, à Idleb et dans d'autres régions du pays. Aux petites heures du 1er février, une frappe aérienne a touché le bâtiment du Croissant-Rouge arabe syrien à Idleb, blessant le directeur du centre et endommageant sérieusement l'édifice. Le 10 février, UNICEF a signalé qu'au moins 20 enfants avaient trouvé la mort dans des actes de violence à Idleb, à Zahraa et dans le quartier Al-Waer de Homs, ainsi que dans la Ghouta orientale, aux abords de Damas.
Au regard de l'ampleur des crimes de guerre commis par le gouvernement syrien et des nombreuses violations systématiques des droits humains, notamment l'utilisation illégale d'armes, tous les États, y compris ceux impliqués dans les négociations, devraient s'engager à mettre fin aux transferts d'armes, de matériel connexe et de soutien logistique au gouvernement syrien, tant que ces attaques se poursuivront et que les parties responsables ne seront pas obligées de rendre des comptes. Les États devraient également arrêter d'offrir leur soutien aux groupes d'opposition armés reconnus coupables de violations massives et systématiques des droits humains et de crimes de guerre.
La coalition menée par les États-Unis devrait prendre pleinement en considération le fait que l'alliance Russie-Syrie a commis à plusieurs reprises des crimes de guerre sous prétexte de lutter contre le terrorisme et toute coopération avec la Russie dans le cadre de la lutte contre l'État islamique (aussi connu sous le nom d'ISIS) en Syrie devrait veiller à ne pas être complice de tels crimes.
Accès à l'aide humanitaire et évacuation en toute sécurité des civils
En vertu du droit humanitaire international, toutes les parties à un conflit armé sont obligées de faciliter une intervention humanitaire rapide et sans entraves pour les civils dans le besoin et de permettre aux civils de quitter librement une région en état de siège. Il est strictement interdit d'affamer la population civile comme tactique de guerre. Selon le Bureau des Nations Unies pour la coordination des affaires humanitaires (BCAH), 4,9 millions de personnes vivent dans des zones assiégées ou difficilement accessibles en Syrie. Ces régions subissent des bombardements et souffrent du manque d'aide, de nourriture, d'eau et de soins médicaux.
Tout comme le blocage des convois humanitaires, le siège de zones civiles par le gouvernement, les forces progouvernementales et les groupes d'opposition armés se poursuit malgré le cessez-le-feu. Les conditions dans ces zones assiégées par le gouvernement et les forces progouvernementales se sont rapidement détériorées, contraignant les civils à fuir.
D'après le BCAH, quatre millions de personnes à Damas et dans ses environs ont été privées d'eau potable par les groupes d'opposition qui contrôlaient alors Wadi Barada et Ain al-Fijah. « Les installations, prises délibérément pour cible, ont fini par être endommagées ». Bellingcat, un groupe de journalistes d'investigation citoyens, qui a enquêté sur l'endommagement des réserves d'eau, a conclu  que « le scénario le plus probable était que le régime était responsable des dommages causés à la structure à ressort ». La population civile de Damas s'est retrouvée privée d'eau potable pendant plusieurs semaines, tandis que les différentes parties au conflit s'accusaient mutuellement et tentaient de négocier un accord pour réparer le système d'alimentation.
En février 2014, le Conseil de sécurité de l'ONU a adopté la résolution 2139 visant à garantir l'acheminement de l'aide humanitaire, en appelant toutes les parties au conflit syrien à faciliter l'accès humanitaire dans toutes les régions de la Syrie. Le gouvernement syrien n'ayant pas respecté cette résolution, le Conseil a adopté, le 14 juillet 2014, la résolution 2165 qui autorise les agences humanitaires de l'ONU et leurs partenaires d'exécution à fournir de l'aide au-delà de quatre frontières non contrôlées par le gouvernement syrien en sus de celles déjà utilisées. La résolution 2165 a été renouvelée en décembre 2016 jusqu'au 10 janvier 2018.
Malgré le non-respect persistant du gouvernement syrien à l'égard des résolutions du Conseil de sécurité de l'ONU sur l'acheminement de l'aide immédiat, le Conseil n'a pas pris de mesures supplémentaires, alors qu'il avait affirmé le contraire dans sa résolution 2165. Le 5 décembre, la Russie a une nouvelle fois utilisé son droit de veto pour bloquer l'action du Conseil de sécurité de l'ONU en Syrie. Ce projet de résolution appelait à une interruption des hostilités pendant sept jours à Alep et exigeait un accès sécurisé pour apporter de l'aide.
Les États concernés devraient pousser le gouvernement syrien et les délégations de l'opposition à prendre un engagement immédiat pour que les citoyens qui le désirent puissent quitter les zones assiégées et afin de permettre aux convois humanitaires de franchir les frontières et les lignes de conflit sans entraves.
Toutes les parties au conflit devraient promettre de mener l'évacuation des civils conformément au droit international humanitaire. L'ONU et les autres institutions devraient bénéficier d'un accès pour suivre les évacuations et en faire le rapport. Les évacuations des civils doivent être volontaires et vers le lieu de leur choix. Les personnes qui décident de rester ou de fuir doivent être protégées dans tous les cas.
Justice
Le 21 décembre 2016, l'Assemblée générale de l'ONU a adopté une résolution portant création d'un mécanisme chargé de faciliter les enquêtes sur les violations les plus graves du droit international en Syrie depuis 2011. Ce mécanisme devrait permettre d'ouvrir la voie à une justice après plusieurs années d'atrocités effrénées. Les pays ayant voté pour cette résolution sans précédent devraient soutenir le groupe d'investigation, notamment en contribuant au financement de ses activités. Ce mécanisme ainsi que les autres efforts de documentation, réalisés entre autres par la Commission d'enquête des Nations Unies, seront indispensables aux futurs processus nationaux et internationaux liés à l'obligation de rendre des comptes. Ces initiatives peuvent favoriser et stimuler l'accès à la justice et envoyer un message fort aux victimes syriennes : les crimes graves commis à leur encontre ne resteront pas impunis.
Les parties au conflit, y compris le gouvernement syrien, devraient s'engager à coopérer avec le mécanisme d'enquête et la Commission d'enquête des Nations Unies.
La communauté internationale devrait quant à elle poursuivre ses efforts pour jeter les bases d'un système de justice crédible et concret sur le long terme. Les gouvernements qui ont soutenu les efforts pour donner un mandat en Syrie à la Cour pénale internationale (CPI) devraient demeurer déterminés à rendre justice aux victimes, que ce soit au Conseil de sécurité de l'ONU, à l'Assemblée générale de l'ONU, au Conseil des droits de l'Homme de l'ONU ou par d'autres moyens, notamment l'utilisation de la compétence universelle. Les autres pays devraient insister sur le fait que la justice est un élément indispensable de toute paix future, y compris lors des négociations à Genève.
Il convient de rejeter les propositions visant à accorder l'immunité à des personnes impliquées dans des crimes graves. Les parties devraient également s'engager à examiner et modifier toute disposition de la législation syrienne qui octroie l'immunité aux forces de sécurité et à mener des réformes plus ambitieuses pour équiper le système judiciaire du pays afin que celui-ci puisse traiter les crimes graves aux côtés d'autres tribunaux, et éventuellement la CPI.
Il convient également de mettre en place des mécanismes plus importants de recherche de la vérité ainsi que des programmes visant à garantir réparation pour les victimes et leur famille. Un contrôle destiné à exclure les coupables de leur position officielle est aussi nécessaire. Tout accord devrait comprendre un engagement des parties aux négociations vis-à-vis d'une commission nationale disposant d'un mandat pour révéler le sort réservé aux personnes disparues et pour enquêter sur les actes de torture, les exécutions extrajudiciaires et les autres violations graves des droits humains.
Réforme du secteur de la sécurité et libération des personnes détenues
Depuis le début de l'insurrection en Syrie, les forces de sécurité ont arrêté arbitrairement, détenu illégalement, fait disparaitre par la force, maltraité, torturé et tué des milliers de personnes, en utilisant un vaste réseau de centres de détention dans tout le pays. Les personnes arrêtées n'étaient autres que des manifestants pacifiques, des défenseurs des droits humains et des militants impliqués dans l'organisation, le tournage de vidéos et la rédaction d'articles portant sur des manifestations. Des journalistes, des secouristes, des avocats et des médecins ont également été appréhendés.
Tout plan de transition doit inclure un engagement visant à établir un mécanisme de contrôle indépendant des hauts responsables actuels et potentiels des services de sécurité. Toute personne contre laquelle il existe suffisamment de preuves suggérant son implication dans des crimes en vertu du droit international et d'autres violations graves des droits humains devrait être suspendue de ses fonctions ou empêchée d'assumer de nouvelles responsabilités dans le domaine de la sécurité, dans l'attente d'une enquête approfondie. S'il existe suffisamment de preuves recevables pour établir leur responsabilité pour des crimes internationaux, les suspects devraient être jugés dans le cadre de procès équitables.
Il devrait également être exigé des nombreuses agences de sécurité syriennes qu'elles présentent des rapports et rendent des comptes à tout gouvernement de transition. Les parties aux négociations devraient convenir de réformes institutionnelles qui permettraient de garantir que les violations des droits humains commises par le passé ne se reproduiront plus jamais.
Bon nombre de manifestants pacifiques et de militants politiques et humanitaires restent encore détenus au secret, tandis que d'autres ont été jugés, certains devant des tribunaux militaires et antiterroristes, pour avoir exercé leurs droits. Les groupes d'opposition armés, basés principalement dans les territoires entre les mains de l'opposition dans le nord de la Syrie, ont également détenu arbitrairement des individus, notamment des journalistes, des travailleurs humanitaires et des militants qui ont émis des critiques à leur encontre.
Tout accord devrait comprendre un engagement visant à relâcher les détenus politiques, journalistes, travailleurs humanitaires et défenseurs des droits humains qui ont été arrêtés et de permettre à des observateurs indépendants d'accéder aux centres de détention et à l'ensemble des personnes privées de liberté. Une manière efficace de veiller à la concrétisation de ces initiatives serait de créer une commission indépendante chargée d'examiner le cas des personnes incarcérées, de surveiller la façon dont elles sont traitées et de garantir leur libération. Afin de poursuivre cette mission convenablement, la commission devrait pouvoir accéder à l'ensemble des centres de détention.
Les parties aux négociations devraient en outre promettre d'abroger ou de réformer les lois qui érigent en infraction l'exercice des droits d'expression pacifique, de réunion et d'association, y compris la loi sur le contre-terrorisme adoptée en juillet 2012, qui criminalise l'activisme non violent ainsi que toute opposition au gouvernement. Elles devraient s'engager explicitement à ne pas détenir et à ne pas poursuivre les travailleurs humanitaires qui opéraient sur le territoire aux mains de l'opposition, notamment les personnes ayant fourni une assistance médicale aux malades et aux blessés, civils ou combattants, conformément aux lois de la guerre.
Les parties devraient également prendre la résolution d'inscrire dans la législation syrienne toutes les protections et garanties fondamentales à l'égard des détenus, qui sont prévues par le droit international, notamment l'interdiction des détentions arbitraires, l'obligation d'informer une personne arrêtée des raisons de son inculpation, et l'obligation de fournir aux détenus la possibilité de contester la légalité de leur détention devant un tribunal. Les personnes privées de liberté, quel que soit l'endroit où elles sont détenues, devraient pouvoir consulter régulièrement leurs avocats, les membres de leur famille ainsi que des médecins.
Organisations signataires
11.11
Al Kawakibi Organization for Human Rights
Amnesty International
Association for Peace, Justice and Documentation
Assyrian Human Rights Network
Bridge of Peace Syria
Cairo Institute for Human Rights Studies
Christian Aid
Democratic Republic Studies Center
EuroMed Rights
FIDH – International Federation for Human Rights
Fraternity Foundation For Human Rights
Global Centre for the Responsibility to Protect
Helen Bamber Foundation
Human Rights Guardian
Human Rights Watch
IHH Humanitarian Relief Foundation
Justice for Life Organization
Middle East and North Africa Partnership for the Prevention of Armed Conflict
Non-Violence Network in the Arab Countries
Permanent Peace Movement
Physicians for Human Rights
Refugees International
Souria Houria
Syria Charity
Syrian Center For Legal Studies and Researches
Syrian Center for Media and Freedom of Expression
Syrian Center for Statistics and Research
Syrian Institute for Justice
Syrian League for Citizenship
Syrian Network for Human Rights
Syrians for Truth and Justice
The Day After
The Violations Documentation Center in Syria (VDC)
Trócaire
URNAMMU
Vision GRAM-International