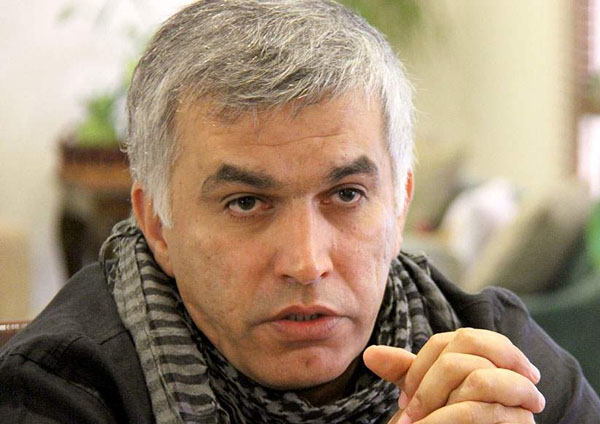 Paris-Geneva, May 15, 2017 – Ahead of two imminent trial hearings, the Observatory for the Protection of Human Rights Defenders, an FIDH-OMCT partnership, calls for the immediate and unconditional release of Nabeel Rajab, whose health is deteriorating owing to almost a year in arbitrary detention for denouncing Bahrain's human rights violations.
Mr. Nabeel Rajab is the co-founder and President of the Bahrain Center for Human Rights (BCHR), Founding Director of the Gulf Center for Human Rights (GCHR), Deputy Secretary General of FIDH, and a member of the Human Rights Watch Middle East advisory committee. Arbitrarily detained since June 13, 2016, he is facing a series of charges and up to 18 years in prison in different court cases. Two of these resume tomorrow and after-tomorrow.
"Nabeel Rajab is not a criminal, he is a human rights defender. His ongoing arbitrary detention and the endless postponements of court hearings are unacceptable, and require a strong reaction from the international community. Bahrain's authorities cannot get away with their crackdown any longer", the Observatory highlighted today.
Mr. Nabeel Rajab, 53, suffers from poor health conditions that have worsened because of his detention. Last week, the United Nations Committee Against Torture (UN CAT) issued a strong criticism of Bahrain's record on torture and ill-treatment, and said it was "deeply concerned" by the arbitrary imprisonment, torture and ill-treatment of detained human rights defenders, including Mr. Rajab and Mr. Abdulhadi Al-Khawaja, former BCHR President, sentenced to life in prison in June 2011 for politically motivated charges and whose health conditions have also been worsening [1]. When considering a similar case in 2013, the United Nations Working Group on Arbitrary Detention found that Mr. Rajab's detention was arbitrary, adding that the "domestic laws of Bahrain (…) seem to deny persons the basic right to freedom of opinion, expression" [2].
"Our call to the Bahraini authorities is simple and straightforward: release human rights defenders deprived of their liberty in retaliation for their human rights work", the Observatory said. "More generally, they should stop harassment and ill-treatment and release all those detained for bogus reasons".
After six postponements, the "TV interviews case" is due to resume tomorrow. In the framework of this trial, Nabeel Rajab is facing charges of "spreading false information and malicious rumours about domestic matters with the aim of discrediting the State" in relation to three televised interviews made in 2015 and 2016 in which he exposed Bahrain's poor human rights record.
In the so-called "Twitter case", which was postponed twelve times and will resume on Wednesday, Mr. Rajab is also accused of "deliberately spreading false information and malicious rumours with the aim of discrediting the State", "disseminating false rumours in time of war", "insulting a statutory body" and "offending a foreign country [Saudi Arabia]" in relation to Tweets denouncing the torture of detainees in the Kingdom's Jaw Prison and human rights violations perpetrated by the Saudi-Arabia led coalition air strikes in Yemen.
The Observatory for the Protection of Human Rights Defenders (the Observatory) was created in 1997 by FIDH and OMCT. The objective of this programme is to intervene to prevent or remedy situations of repression against human rights defenders. FIDH and OMCT are both members of ProtectDefenders.eu, the European Union Human Rights Defenders Mechanism implemented by international civil society.
Press contacts:
· FIDH: Samuel Hanryon: +33 6 72 28 42 94 / Audrey Couprie: +33 6 48 05 91 57
· OMCT: Delphine Reculeau: +41 22 809 49 39